When you get a new MacBook there are many apps already installed, but if you want to make full use of your new Apple notebook, here is a list of 70 apps and services you need to know about.
GottaBeMobile posted an article showing users how to set up a new MacBook, whether it's a MacBook Pro or a MacBook Air. The how to focused on the unboxing, first boot and changing important settings to get things running nicely.
Now we take that to the next step with a list of important apps that can make a new MacBook or even an iMac, Mac mini or Mac Pro more useful to new Mac owners. This list of over 70 apps and services will make a new MacBook more userful.

Productivity
Apple automatically gives their trio of iWork apps to new Mac owners, so Pages, Keynote or Numbers like cam pre-installed. If a user bought an older computer as a used or refurbished Mac, get the iWork suite using a tip at GottaBeMobile or if that doesn't work get the apps at the links below for $20 each:
The iWork suite works for simple needs, but we suggest users get their hands on better word processors or spreadsheets. Keynote beats most if not all the other presentation tools, even Microsoft's PowerPoint, but Pages and Numbers took a serious step back in the most recent updates, so serious writers or number crunchers need better tools.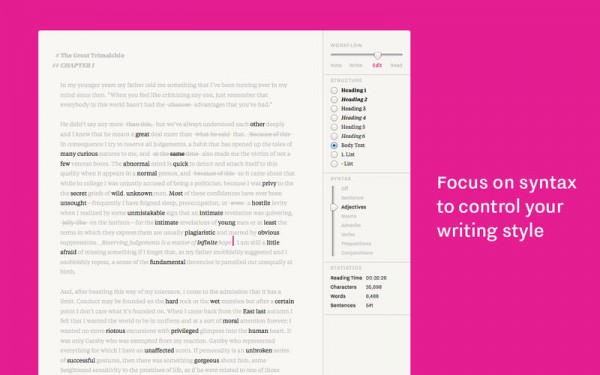 iA Writer (free) offers the best distraction free writing environment for simple text entry. It syncs between iPad and other Macs via iCloud. It's simple and works without getting in the way of the creative process. For those who need more, check out the app's new sibling, iA Writer Pro ($19.99) that offers cool new features without distracting writers. The new Syntax control highlights words of a certain grammatical form, like adjectives, verbs and more (see above). This lets users see what kind of writing style they use and improve it with help from the visual cues.
Microsoft Office comes in three versions for Mac. Microsoft's ubiquitous and powerful tool creates complex or simple documents and spreadsheets, but does a terrible job of creating nice attractive Presentations. Office costs a lot more than iWork or other office apps. Here's what users get in the three versions:
Office for Mac Home & Student ($139.99) – Word, Excel and PowerPoint
Office for Mac Home & Business ($219.99) – Adds Outlook
Office 365 Premium ($99.99/year) – Also adds OneNote, Access (for both Mac and PC) and Publisher (for PC only) and users can install it on up to 5 computers
People who always want the latest greatest should opt for Office 365 Premium since Microsoft offers more in that package and lets users install on more computers. The user also gets access to the online versions of the main three apps. Microsoft throws in 60 minutes of Skype world calling and 20GB of extra SkyDrive storage for a total of 27GB.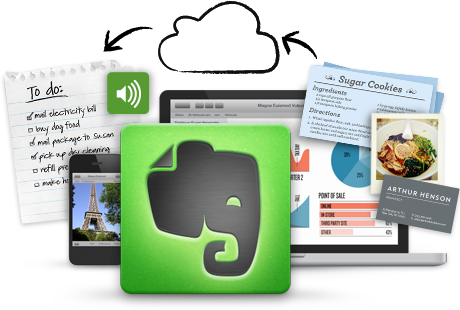 The free app/service Evernote stores information on almost any web-connected device using folders or tags to organize the info. Save images, audio and notes to Evernote. Use it for receipts, storing recipes or web pages. There's almost no limit to what a person can do with Evernote. Users get unlimited free storage for up to 60MB of uploaded data per month. Premium users pay $45/year or $5/month to get up to 1GB of upload/downloaded data. Double that for Premium business members.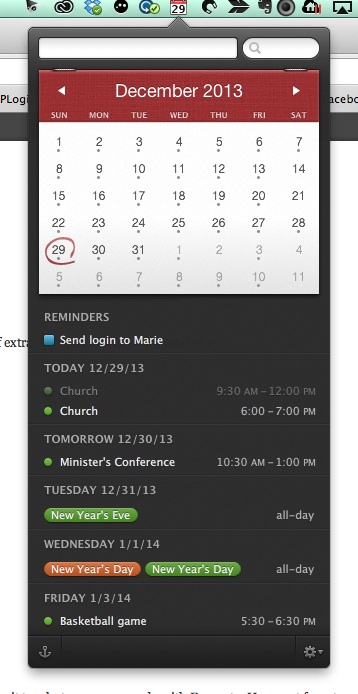 Fantastical runs in the OS X menu bar and allows users to create new appointments or reminders by typing in real words. Instead of clicking a bunch of buttons for time and date, type "Meet with Josh at 1 PM tomorrow at Starbucks" and the app will create an appointment for 1PM on the next day giving it the title "Meet with Josh". It also adds reminders, but typing "Record The Walking Dead at 10PM Sunday". A new reminder will show up at that time with the title "Record The Walking Dead."
Games
The Mac lags behind the PC in gaming prowess, but there's still a large collection of fun and powerful games to play on the OS X. Here's a few we like.
First, get Steam which stores and sells a collection of games that work on both Mac and PC. Filter search results for Mac and buy games there. After a gamer buys their game in Steam, they can download and install it on other computers, much like they can with the Mac App Store.
Here's a list of Mac OS X compatible games on Steam.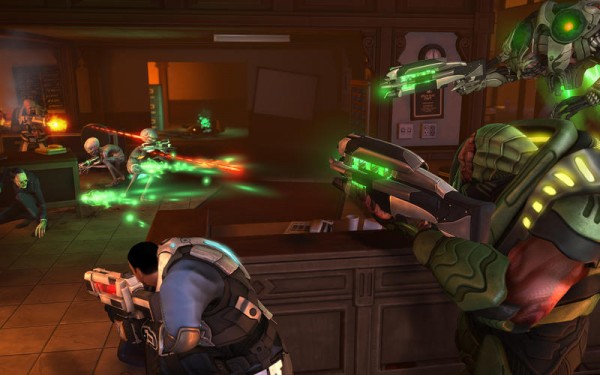 On the Mac App Store, consider downloading Apple's Game of the Year for 2013. XCOM Enemy Unknown costs $5o. The role-playing game puts players in charge of the XCOM, defenders of Earth trying to keep extra terrestrial invaders from taking the planet. Build defenses and then use them against the bad guys. The requires a more powerful MacBook Pro to run well.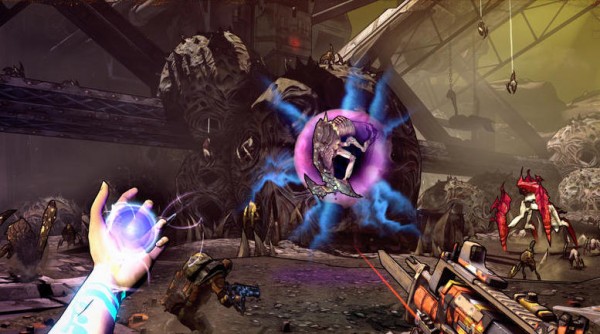 Another highly touted game comes from Aspyr Media. Borderlands 2 ($9.99) won lots of awards for the FPS and Role-playing game. Travel around Pandora to beat the bad guys using one of four character classes in this multiplayer game. It will work on all the new Mac models.
Here's a few older games that still offer a lot of fun on all the new MacBook models now selling:
Creativity
Like iWork on new Macs, Apple loads their creativity suite of applications called iLife. We get iMovie, iPhoto and Garage Band. Play around with these apps because they work quite well for simple and even moderately complex tasks. However, we offer some suggestions for people who want more.
Adobe now offers their incredible suite of creativity apps in a subscription based model that's attainable for serious enthusiasts or professionals.  Get Photoshop and Lightroom for photography, Premiere for video editing, Dreamweaver for web designers and much more in the new Adobe Creative Cloud for $49.99/month when a person commits to a year's subscription. They offer a photographer's package for $29.99 or $9.99 if buyers get it before the end of 2013, which only includes Lightroom and Photoshop. Below see more about the Photographer's package tools and features.
Pixelmater ($29.99), the best alternative Photo editing app, does more than photography. Users can draw, paint and touch up their photos. People can use it to sketch up designs for professional uses and for web design. It's remarkably powerful for only $30. Pixelmater supports Adobe Photoshop file format and integrates with iPhoto and Aperture.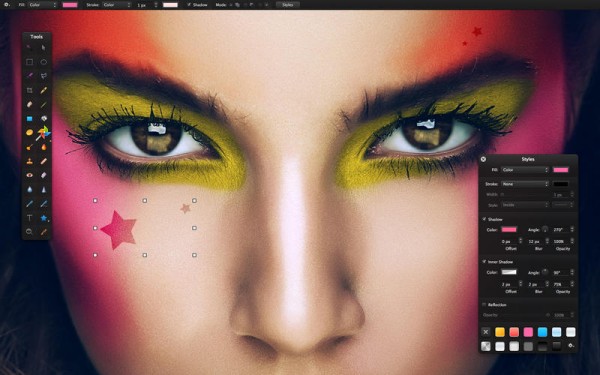 Speaking of Aperture ($79.99), the Apple image editing and organizing software takes iPhoto users to the pro level. We really like Aperture, Apple's left us waiting for a real update for years. If a user can't afford Adobe's solution or doesn't want to pay monthly for it, then Aperture and Pixelmater will satisfy serious enthusiasts or pros on a budget.
Adobe Photoshop Elements and Premiere Elements costs $149.99 and they each offer a lot of what the professional versions of Photoshop and Premiere at a fraction of the cost. The apps give home and basic users some built-in help to create beautiful images and videos. Some pro users even use these tools. Instead of paying the full price, check them out at Amazon for under $100.
Adobe and Apple offer professional sound tools in the form of the $200 Apple Logic Pro and Adobe Encore, part of the Creative Cloud suite. However, we like the free Audacity. It offers a simple recording and editing interface with lots of plug-ins and community support to make it do more.
Entertainment
iTunes comes with every Mac, but Apple really needs to fix this mess. Until they do, use another service for music listening and video playing. We prefer one of the following music streaming subscription services.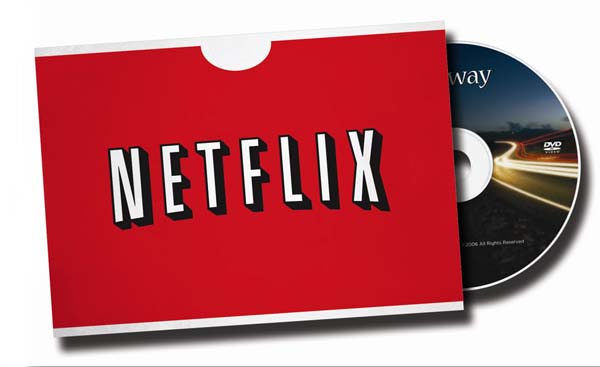 For video we like Netflix and Amazon Prime Instant Video. They both lets users stream an unlimited number of movies and TV shows from the company's libraries. Netflix works on almost any device including the Mac (through a browser), Apple TV, Roku, Chromecast, iPad, iPhone, Android phones/tablets and many smart TVs or DVD/Blu-ray players. Netflix starts at $8/month with an option for $12 if a user needs to stream to four devices at a time. Subscribers can also add DVD/Blu-ray physical discs for an extra fee on Netflix.
Amazon Prime Instant Video works on fewer devices but comes with an Amazon Prime subscription, which costs $80/year. This gives users the video streaming plus free 2-day shipping or $3.99 next day shipping.
Educational
Need to learn how to type? Get Typist, a Mac-based typing tutor free in the Mac App Store. Learning touch-typing will do more to improve productivity on a computer than almost anything else. See a full review at GottaBeMobile.com.

NoteSuite offers a great note-taking application to help students who want to sync notes between an iPad and Mac via iCloud. The application handles notes, to-do lists and web clipping. It also stores PDF and Word files for mark-up and searching. Students can use the iPad app in class and then work with the notes back at home or in the dorm on their MacBook.
iBooks and iBooks Author can add to a user's educational library. Create books to sell or give away. Teachers can distribute a syllabus and class notes in an iBooks book. Students can use the book on their iPads, iPhones or Macs. iBooks Author make creating multimedia-rich books easy.
As a pastor, I'd suggest including Bible software in the mix. The best Bible apps for Mac come from Accordance, Logos and Olive Tree. Use the Amazon Kindle Cloud Reader in a browser or the local client for Mac to reach any book available from Amazon on a Kindle. Users can send PDFs or Word files to their Kindle account.
Advertisement