With the release of a slew of Windows 8 touchscreen laptops, buyers will struggle to find a decent computer at the low-end. The Acer Aspire V5-571P-6499 attempts to fit in that space for $699 retail and is now on sale for less just months after its first release.
Fitting decent specs into a computer with a touchscreen for under $700 must challenge OEM engineers, but Acer tried it. It's not a high-end system, but most families or students will find it an acceptable compromise. People who want an office computer will also find it useful.
Thanks to the machine's look, we'd call this system a "premium budget" system. It's nicer than most budget computers, but not good enough to call it premium.
Pros

Thin and sleek
Attractive looking
Includes touchscreen
Full size keyboard with number pad
Great touchpad

Cons

Poor battery life
Runs Windows 8
Plastic body feels cheap
Dongle needed for VGA and Ethernet
Acer Aspire V5-571P-6499

Toshiba Satellite P855-S5200 Review Guide

Buy the Toshiba Satellite P855-S5200
Hands On/Video Review
Watch our hands on video review of the Acer Aspire V5-571P-6499 Windows 8 computer.
Acer Aspire V5-571P-6499 Design
Acer housed the Acer Aspire V5 in a plastic silver body with a black base. It feels plastic but looks like aluminum from a distance.
The computer comes with a 16×9 widescreen 15.6-inch display. That sounds big, but it only measures an inch thick.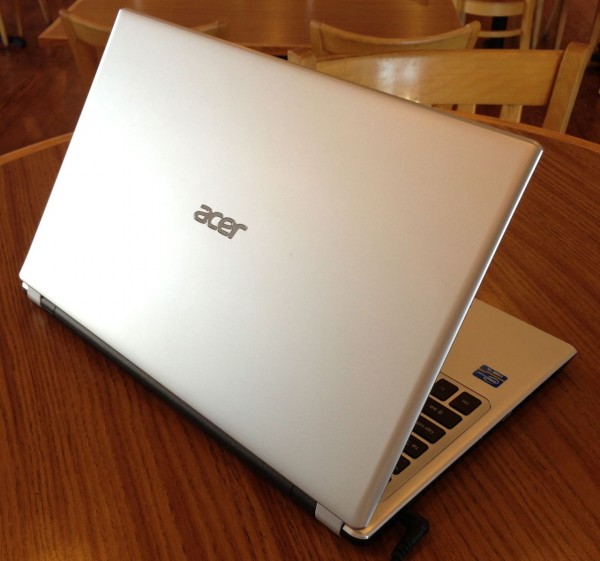 The Aspire V5 looks great on the outside thanks to the silver color and sleek design. It teases us into thinking we're getting an expensive ultrabook. Upon opening the box the look heightened expectations. Actual usage diminished expectations, since the plastic chassis feels cheap.
The ports along the sides include the following:
Acer Aspire V5-571P-6499 Display
We're getting tired of middling 1366×768 resolution glossy displays on 15-inch notebooks. Acer followed the crowd, missing a chance to differentiate itself with a higher res display or a matte finish. That would bump the price, probably taking this machine out of the budget category, so we get another low-res glossy computer.
The display's glossy finish looks okay under normal light and reflects in bright light. The color looks decent and offers acceptable contrast and brightness. Using it at 40% to save battery dims the display just below what's comfortable in regular light.  Plug in and crank up the brightness to enjoy using it, since the machine's battery life disappoints too. The machine includes a 1MP webcam that works adequately for video chat.
Toshiba P855-S5200 Performance
A 1.7GHz Intel Core i5-3317M processor with 4GB of RAM powers the Acer Aspire V5. That's average for machines in this price range, so don't expect too much.
Acer's put together a decent machine for average to low performance needs. Families or students will enjoy using it to get online, stream video from Netflix or YouTube and using it for basic creative needs. Kids can do their homework and play low impact games needing minimal processing power. That's all the Intel HD 4000 graphics will handle.
The V5 works for basic video and photo editing, but serious artistic professionals will need more than this system offers.
Business users can keep it on their desk at work by day and bring it home on the weekends or at night for light entertainment. It's not a road warrior's machine, but the V5 fits comfortably for the occasional business trip or vacation despite the 15.6″ size.
The machine responds well as we type, interact via the trackpad or use the touchscreen. There's no delay after we tapped a tile on the Windows home screen. Apps icons respond instantly, even if they take a while to finish their launch.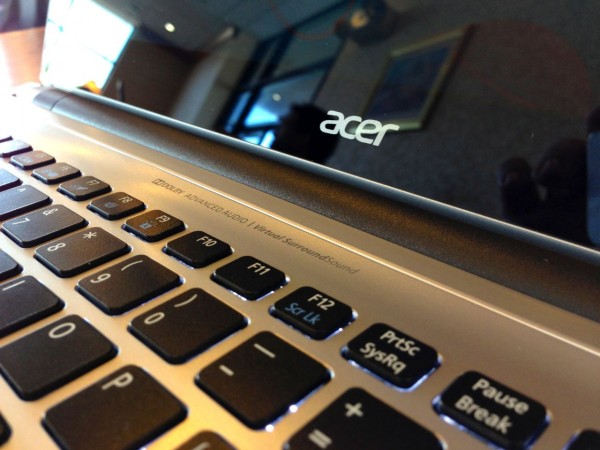 The machine might serve well as a multimedia PC with decent DOLBY ADVANCED AUDIO Virtual SurroundSound speakers and 720p quality display. We played a couple of videos and a DVD with good results. Too bad the battery will only last for one movie, or maybe two short ones.
Acer Aspire V5-571P-6499 Battery Life
The Acer Aspire V5-571P-6499 fell woefully short in battery life. We expected more than just shy of four hours. It also charges slowly, taking a few hours to go from zero to full battery. Acer  uses the typical PC power brick, which we find annoying. OEMs need to learn a lesson from Apple and make these things more user-friendly.
Acer Aspire V5-571P-6499 Keyboard and Touchpad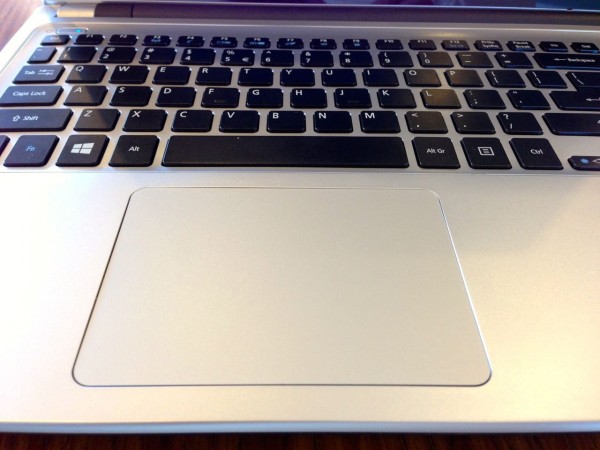 The V5 includes a great touchpad with gesture support and clicking mechanism. It's responsive, roomy and easy to click. We've always wondered why Windows-based notebook makers use shoddy pointing devices, but we're finally seeing better quality with computers like this.
Users will want to enter the Elan Touchpad settings under Mouse settings. Change the setting to turn off the touchpad while typing. This  on by default. Once the typing stops the trackpad turns on after a short delay. Increase the delay to keep from accidentally taping while typing.
The touchpad functions as a big left click button with the lower right corner serving as the right-click button. It takes getting used to. While trying to right-click we often accidentally performed a left click since we didn't press close enough to the corner. Sometimes we tried to left click, but pushed to close to the corner and it performed a right-click. After a while the user will adjust.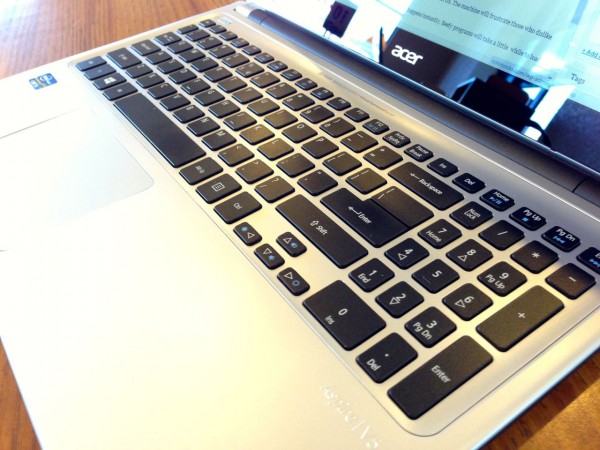 The V5 keyboard feels roomy. The island style keys give enough separation that we could touch type quickly without accidental key presses. The most used keys sit in their expected spots. The number pad helps those who work with numbers all day.
Software
The Aspire V5 runs Windows 8. We've already shared what we like and hate about the new Microsoft OS. The machine will frustrate those who dislike the new OS while fans will enjoy it.
We love that Acer didn't bog down this machine with a load of crapware aside from a few useful utilities to do system maintenance and update Acer specific software and drivers.
Is the Acer Aspire V5-571P-6499 Worth It?
Do proper diligence and study whether a Windows 8 computer will fit your workflow. Acer offers an acceptable machine for people who know they want the new OS and can't afford one of the great new Windows 8 ultabooks we saw at CES 2013, like the HP EliteBook Resolve or the Lenovo IdeaPad Yoga 11S. Right now the Microsoft online store offers this machine at a great price of $599.99. That seems like the right price and makes it easy to recommend, so long a the buyer knows they're getting a budget touchscreen laptop. Otherwise Amazon sells it for $699.99, which makes the decision tougher. For only $100 more users will get a better experience with the smaller 11-inch Lenovo IdeaPad Yoga 11S with swiveling display that works in a tablet mode. The Yoga 13 system starts at $999 and comes closer to the size of the Acer and performs better.
Acer Aspire V5-571P-6499 Gallery
Acer Aspire V5-571P-6499 Specs
OS

Windows 8

Display (size/res)

15.6-inches, 1366 x 768

CPU

1.7-GHz Intel Core i5-3317M

 Processor

RAM

4GB

Graphics

Intel HD Graphics 4000

Storage

500GB, DVD, SD card slot

Ports

VGA via dongle, HDMI, 3 USB 2.0, stereo and mic 3.5mm, Ethernet via dongle

Size

15." x 9.9″ x 1″

Weight

5.4 lbs (6lbs with power adapter)

Wireless

Wi-Fi and Bluetooth

Price

$699.99 or $599.99 via Microsoft online store
Advertisement