Building on the HP ENVY Spectre brand announced at CES 2012, the new HP ENVY Spectre XT is a smaller ENVY Ultrabook with a friendlier $999 price.
Like the rest of the HP ENVY notebooks, the ENVY Spectre XT, focuses on the look and feel of the notebook. HP focuses on the aesthetics, but doesn't forget about power, including third generation Intel processors.
The Spectre XT has an all-metal chassis with a slim bezel that helps keep the size of the notebook in check. The Spectre XT is 14.5 mm thick and weighs in at 3.07 pounds.
HP ENVY Spectre XT Hands On Video
Check out our hands on with the ENVY Spectre XT for a closer look at the Spectre XT features.
HP ENVY Spectre XT Specs
The ENVY Spectre XT will ship with third generation Intel Core i processor options and the latest integrated Intel HD graphics options. The XT has a 13.3-inch display.
The HP ENVY Spectre XT includes a 128GB SSD drive for speedy access to apps and startup. The size seems small for users coming from a standard hard drive, but the speed is a good tradeoff for most users.
When it comes to ports, the XT includes Gigabit Ethernet, USB 3.0 and HDMI for connectivity.
HP ENVY Spectre XT Features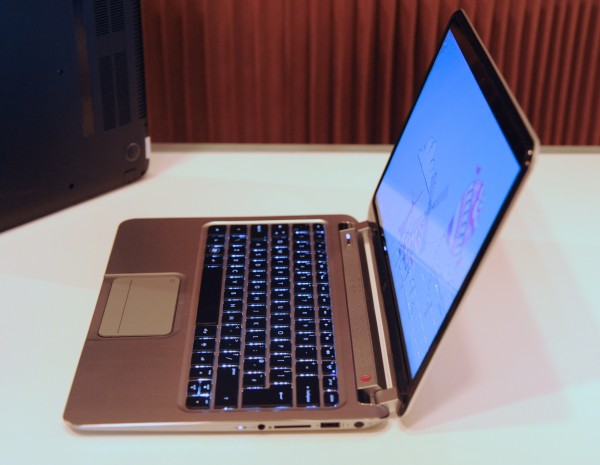 The ENVY Spectre XT includes a number of consumer friendly features designed to enhance the user experience.
Beats Audio – HP boasts that Beats Audio allows users to hear music the way the artist intended thanks to a collaboration with Dr. Dre.
CoolSense – With CoolSense, the Spectre XT knows when to adjust performance and fan settings to keep the XT cool.
HP ImagePad – The mousepad on the Spectre XT supports multifinger gesture navigation, which HP claims is precise.
HP TrueVision Webcam – The XT delivers an HD video chat experience thanks to this HD webcam which should deliver sharp images in Google+ Hangouts and Skype.
Backlit Keyboard – Oddly an option and not a standard, the backlit keyboard simplifies working in dimly lit situations.
Software – Included with the XT are full versions of Adobe Photoshop Elements and Premiere Elements.
Anti-Theft – The Spectre XT includes a year of Absolute Data Protect.
ENVY Spectre XT Battery Life
HP rates the ENVY Spectre XT battery life at 8 hours. PC manufacturers are better at measuring real world battery life, but the Spectre XT will likely clock in shorter under real world conditions.
ENVY Spectre XT Price and Release Date
HP is releasing the ENVY Spectre XT on June 3rd with a $999.99 starting price.
HP Envy Spectre XT Specs
Windows 7 Premium 64-bit
13.3" diagonal display with 1366 x 768 resolution
Available with 3rd generation Intel Core processors
Memory: 4GB 1600MHz DDR3
Storage: 128GB (up to 256GB) Solid State Drive Flash Module
Backlit Keyboard + HP Imagepad
802.11a/g/n 2×2 WLAN + BT + WiDi
Ports include: Gigabit Ethernet, USB 3.0 and HDMI
Dimensions: 327 x 221 x 14.5-mm
Weight: 3.07 lbs.
Up to 8 hours of battery life
2-Year Norton Internet Security
Beats AudioTM with quad speakers
HP CoolSense technology
HP TrueVision HD Webcam
Full versions of Adobe Photoshop® and Premiere Elements 10
1-Year Absolute Data Protect
 Concierge phone line dedicated exclusively to HP ENVY Spectre users
HP ENVY Spectre XT Gallery
Advertisement