It's tough to deliver a thin and light notebook that doesn't feel like it will snap apart in your hands.
In order to make the Toshiba Portege Z830 and Z835 strong and thin, Toshibput  considerable time and thought into the internal layout of the notebook, the build materials and even the layout of the motherboard and components.
The key to the strength of the Toshiba Portege X830 is a honeycomb structure which Toshiba showed off on the showfloor at CES in a transparent model of the company's latest Ultrabook. While they didn't let us take photos of the internals, the layout of the honeycomb pattern was impressive.
In order to stay thin without giving you a mushy keyboard, the honeycomb pattern extends underneath the keyboard, but not in a haphazard way. Toshiba tells us that engineers spent a good deal of time figuring out where to place components on the circuit board so that any raised components bumped up where the honeycomb holes were.
Toshiba wouldn't allow us to take photos of this demonstration, but if you look at the exploded illustration of the an Ultrabook from Intel, you can get an idea of what goes in to an Ultrabook.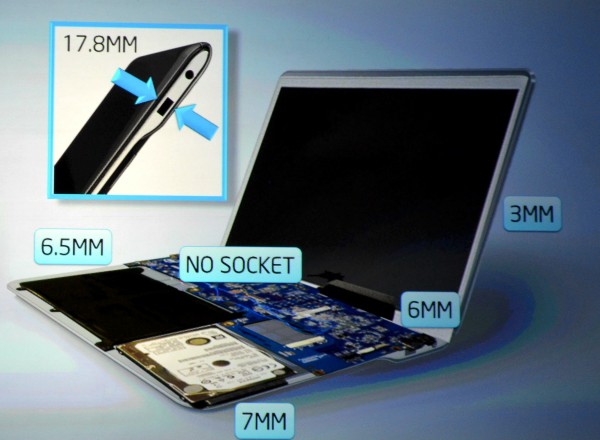 If you want to see the latest Ultrabooks from Intel, check out our Ultrabook coverage from CES 2012.
Advertisement