Apple updated their OS X Lion operating system today, bringing the version to 10.7.2. Along with the update you get support for the new iCloud which stores things like your mail, calendars and contacts. It also syncs that content across other computers running the same version. In addition you can access them via your iOS devices so long as they have the new iOS 5, which was also released today. Other iCloud features include the ability to store and download all of your music, movies, books and apps purchased from Apple.
The new Find My Mac feature gives you the ability to locate a missing Mac computer, much like the Find My Phone feature on iOS. You can remotely lock the computer, send messages and even add a new password or wipe the data. This helps if you lose your system, much like I did recently when I accidentally left my MacBook Air at a restaurant. I was really wishing this new feature had already been released.
Find My Mac won't work if the computer is turned off or not connected to the Internet. In my case I would not have found my Air since it stayed in the bag behind the counter at the Subway restaurant where I left it.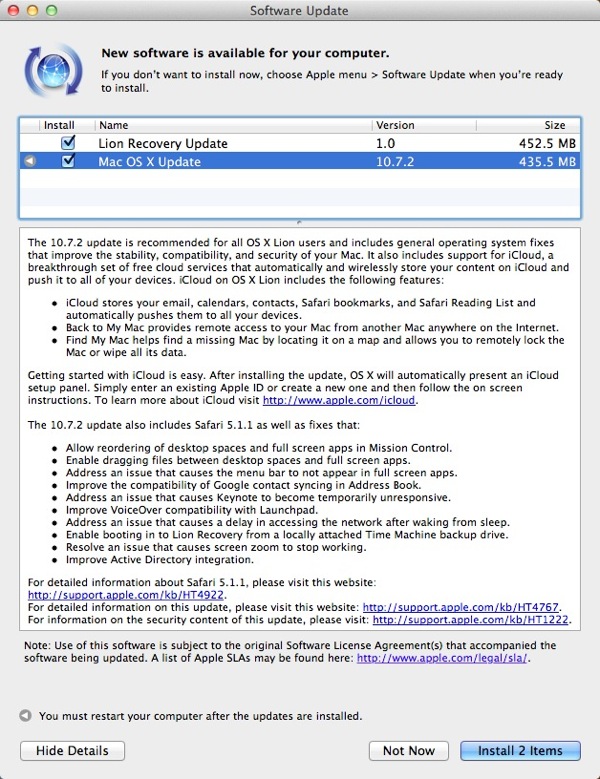 Back to My Mac will also now be part of the new iCloud. This feature lets you remotely log into your computer from another Mac anywhere on the Internet so long as the computer is online.
A second OS X update available now updates the Lion Recovery program, which lets you recover your system if you have a problem.
You can get both updates by running Software Update from the Apple Menu on your Mac.
In addition to these major updates, 10.7.2 primarily makes OS X compatible with all the new features related to the iOS 5 release and the iPhone 4S release coming this week. For more on these releases, please visit our sister site GottaBeMobile.com.
Below you will find the full text of the update description:
The 10.7.2 update is recommended for all OS X Lion users and includes general operating system fixes that improve the stability, compatibility, and security of your Mac. It also includes support for iCloud, a breakthrough set of free cloud services that automatically and wirelessly store your content on iCloud and push it to all of your devices. iCloud on OS X Lion includes the following features:

iCloud stores your email, calendars, contacts, Safari bookmarks, and Safari Reading List and automatically pushes them to all your devices.
Back to My Mac provides remote access to your Mac from another Mac anywhere on the Internet.
Find My Mac helps find a missing Mac by locating it on a map and allows you to remotely lock the Mac or wipe all its data.

Getting started with iCloud is easy. After installing the update, OS X will automatically present an iCloud setup panel. Simply enter an existing Apple ID or create a new one and then follow the on-screen instructions. To learn more about iCloud visit https://www.apple.com/icloud.

The 10.7.2 update also includes Safari 5.1.1 as well as fixes that:

Allow reordering of desktop spaces and full screen apps in Mission Control.
Enable dragging files between desktop spaces and full screen apps.
Address an issue that causes the menu bar to not appear in full screen apps.
Improve the compatibility of Google contact syncing in Address Book.
Address an issue that causes Keynote to become temporarily unresponsive.
Improve VoiceOver compatibility with Launchpad.
Address an issue that causes a delay in accessing the network after waking from sleep.
Enable booting in to Lion Recovery from a locally attached Time Machine backup drive.
Resolve an issue that causes screen zoom to stop working.
Improve Active Directory integration.

For detailed information about Safari 5.1.1, please visit this website:https://support.apple.com/kb/HT4922.

For detailed information on this update, please visit this website: https://support.apple.com/kb/HT4767.

For information on the security content of this update, please visit: https://support.apple.com/kb/HT1222.
Advertisement