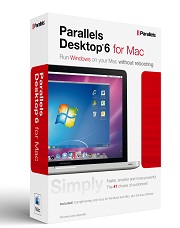 For Mac users who want, or need, to run Windows without purchasing and running a second PC a software solution like Parallels Desktop 6 for Mac is an affordable and handy solution.
Parallels allows users to install Windows right on their Mac and use the Windows applications alongside Mac ones without the need to reboot or switch to a new machine.
The recently announced Parallels Desktop 6 for Mac continues this capability and adds many new features including the ability to access your Parallels Windows apps from an iPhone, iPad or iPod Touch no matter where you are; even on another network.
You can check out a demo video of Parallels Desktop 6 being used to run Windows 7 on an iPad below and gain more insight into how it works at JKOnTheRun where James Kendrick had the following to say about the solution, "I've used LogMeIn to control Windows systems in the past (no Mac involved), and the Parallels solution is better. It is as fast (or faster), easier to control, and turns using Windows into a very Mac-like experience."
The mobile access is made possible with a free app available in the iTunes App store starting today.
Additional new and enhanced features include;
Enjoy full access and control of your virtual machine from wherever you are with an all-new Parallels Mobile app for iPhone & iPad
Take advantage of all your computer's power with a new 64-bit engine
Immerse yourself in your favorite games, music and video with 5.1 Surround Sound
Work the way you want with Mac OS X keyboard shortcuts in Coherence and Crystal view modes
Working with files on USB drives, networks and shared folders is faster and easier than ever
Boot Windows 41% faster Enhanced! 3D graphics performance is nearly 40% better
Parallels Desktop 6 for Mac is available for $79.99 and students can purchase Parallels for $39.99. Existing Parallels users can upgrade for $49.99. Users looking to switch to a Mac for the first time may appreciate the Parallels Desktop Switch to Mac Edition for $99.99 which includes a transfer cable. Users who recently purchased Parallels for Mac 5 may be eligible for a free upgrade and new users can download a free trial to see if Parallels is right for them.
Another solution for running Windows programs in OSX is VMWare Fusion which offers similar functionality. Currently VMWare is offering Parallels users the ability to upgrade to VMWare Fusion 3 for $9.99.
Advertisement