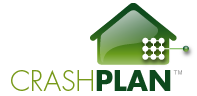 CrashPlan is an interesting online backup tool that delivers a trio of backup options to keep your data safe. Best of all, two of these options are completely free and the paid service, CrashPlan+, is competitively priced.
What is CrashPlan?
CrashPlan offers automatic online backups, like competitors Mozy and Carbonite, but in addition to allowing you to purchase an online automatic backup solution CrashPlan gives you the software you need to perform your own online backups. This software is one of the better tools, and certainly an improvement over the built in Windows and includes with your hard drive backup software.
Why I Like CrashPlan
The CrashPlan software can back up to your external drive, either on your network or plugged in to your computer, but it does so much more. You should really have an off site backup of your files in case of a fire or natural disaster. Unless you are a business user or a geek with time to spare creating an up to date backup and moving it offsite can be a challenge. But, thanks to CrashPlan, you can backup to a friend's computer and they can backup to yours.
The with super cheap hard drives, it is easy to get a group of friends on board and share the disk space to back up your computers. Adding a friend's computer as a backup location is as simple as entering their 6 digit CrashPlan number. Once you both have CrashPlan in place the software will start backing up your files to their computer and vice versa. You should pick a friend with a fast connection and plenty of hard drive space, but in my testing it was simple to setup and worked well. It is amazing that this is included in the free version of CrashPlan.
Wait, it gets even better. The software works on Windows, Mac and Linux.
Why I Like CrashPlan+
CrashPlan+ is the paid online backup solution from CrashPlan. You can purchase online backup starting at 10GB and going up to Unlimited and Family Unlimited. I have been testing the Unlimited account for the past few months to backup our MacBook Air. The service works well, backing up in the background to a network drive and to CrashPlan's online service.
The CrashPlan+ online backup tool will run in the background when your computer is running, and you can call up the CrashPlan interface to manage your backup, restore and perform other actions. The backup will dig into your bandwidth so you may see some slowdowns when uploading or downloading large files while your backup gets started, but this is normal. You can pause the backup if it gets in the way of a Netflix movie or other activity. I found that the service didn't slow down or computer or our standard web browsing while on OS X Snow Leopard or OS X Lion.
Upload speeds were impressive, with my broadband connection as the only limiting factor. Uploads routinely hit 200 to 300kbps on my home cable connection and climbed upwards of 400kbps when I had a faster place to backup.
The pricing is another thing I like. CrashPlan+ offers a 10GB plan, but this isn't going to be enough for most users, so I will focus on the Unlimited plan price. When you look at the annual rates for CrashPlan Unlimited backup, you'll love the $50 for a single computer and $119 for up to 10 computers in your house. The pricing goes out to four years, and cuts the monthly cost down to as low as $3 a month and $6 a month for the individual or Family Unlimited plans when you buy four years of online backup.
The competition, like Mozy, doesn't offer unlimited online backup and charges a higher fee. Carbonite offers unlimited backup at a competitive rate, but there are no bundled computer discounts.
The pricing of CrashPlan is important for two reasons. More and more households have multiple computers, which means backing them all up is important. Second, we all have tons of data. My iPhoto library alone would take up half of Mozy's online backup option, and that doesn't begin to cover the music and movie files on my computer.
What I Would Change?
The hardest part about getting all of my data backed up to CrashPlan+ has been the fact that my MacBook Air goes everywhere with me; even places with less than adequate connectivity. It would be nice if the Seeded Backup option was cheaper than $125 so I could get my backup started faster.
Another issue is the lack of online file access and an iPad app to view and download files. An iPad app is really just an extra, but I really wish I was able to go online and access files similar to SugarSync and DropBox options.
Recommendation
CrashPlan offers an impressive value for both free and paid users. The ability to backup in multiple locations, two of which are free, really helps CrashPlan stand out from online backup competitors. The pricing and flexibility of paid options is also really enticing. As a user with multiple computers at home the Family Unlimited plan offers a pretty sweet value, especially at the four-year plan.
CrashPlan+ is available as a free limited time trial if you want to see how the service works for yourself.
Advertisement