Mozy, one of the most popular online backup tools, has announced that they will no longer offer unlimited backup options to users. Instead Mozy will offer a two tier plan with the ability to add 20GB or an extra computer for $1 a month.
The move will not affect current MozyHome Unlimited subscribers until they renew their plans, but new customers will see the new pricing right now.
The new MozyHome pricing is, check out the image below to see how many files this will allow you to backup.
50 GB for $5.99 per month (includes backup for 1 computer)
125 GB for $9.99 per month (includes backup for up to 3 computers)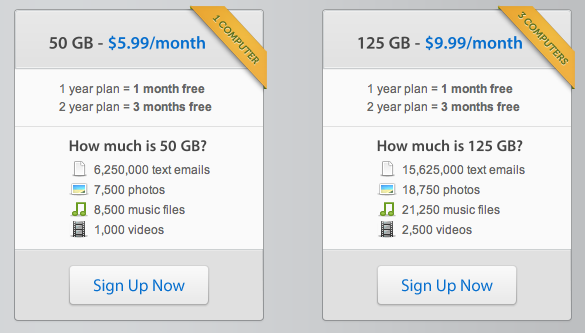 You can add an additional computer or 20 GB of additional storage to either plan for $1 a month, up to a total of 5 computers to a plan.
While this is a nice change for users who need to back up multiple computers, the caps and price increase may cause some customers to choose a service like Carbonite which still offers unlimited backup at $54.95 a year.
Advertisement