iPad 2 is coming, if that's what it is called. The announcement could come this month at "small event" with the device shipping in March, if a report on Japanese site macotakara.jp/blog is correct (in Japanese, translated with Google by MacRumors). The image below is purported to be the display of the new iPad.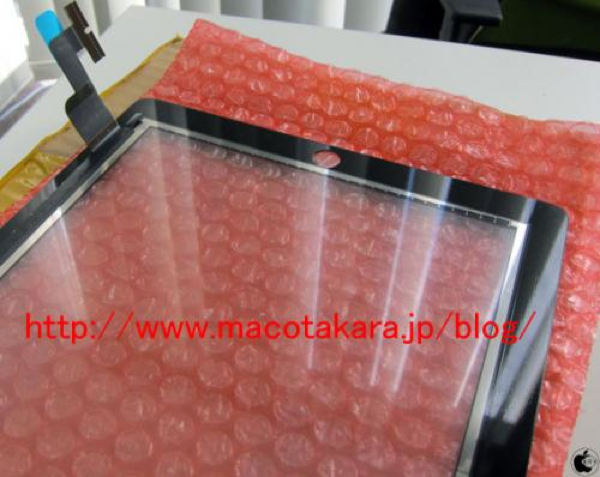 The iPad 2 has been in production, but is on a hiatus for Chinese New Year celebrations. The launch event will supposedly come at the end of February, based on production cycles. Also, there have been cases showing possible new features showing up and parts are shipping to repair houses already, according to TUAW.
With Steve Jobs on a leave due to health reasons, there is speculation over whether he will return for this event or leave it to Tim Cook, the temporary leader of Apple.
There are a number of rumors as to what will be different with this new iPad. Here is a list of all the rumors we've seen thus far:
Higher resolution display that is either the same, higher or just lower than the iPhone 4's retina display
Cameras on both the front and back
Anti-glare and smudge proof display
Verizon compatible 3G and AT&T 3G both built-in although another says there will be one for each wireless as well as a Wi-Fi only
USB port either for charging, doing away with the 30-pin dock connector or in addition to the dock connector
In addition to one with the exact same size, there will be a 7-inch display version
It is pretty certain that not all of these will come true, because the iPad would then cost about $2,000. But we are certain Apple will be including enough newness to make it desirable to current owners and those who have been waiting for certain features to take a leap.
Advertisement