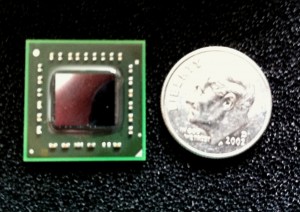 The AMD Fusion processor family was announced at CES 2011 earlier this month and wowed us with the promise of a better graphics performance in affordable notebooks, netbooks and tablets thanks to a combined CPU and GPU.
On a 4th Quarter earnings call Thomas Seifert, AMD Interim CEO, announced that AMD had shipped over 1 million Fusion APUs by the end of 2010 to major partners such as Acer, Asus, Dell, HP, Lenovo, MSI, Samsung, Sony and Toshiba.
This isn't too surprising considering the Fusion APU had over 100 design wins by CES 2011 and was in 35 notebooks and mini laptops that debuted at the show, but it is great news for AMD and for users who will benefit from the re-emergence of AMD as a competitor in the processors space after several years of sub-par performance.
We gave the AMD Fusion APU our Best Innovation of CES 2011 award with the following to say, "With AMD Fusion APU powered notebooks ranging from 11.6″ up to 15.6″ and starting at around $329 it's hard to imagine a reason why you wouldn't pick Fusion over a standard netbook."
The AMD Fusion APU powers two of our Best of CES winners, the Lenovo ThinkPad x120e and the HP Pavilion dm1z notebooks as well as many other devices.
You can learn more about the AMD FUsion APU from AMD Product Marketing Director Bob Grim in the video below.
via Liliputing
Advertisement