At the NVIDIA Press conference during CES 2011 in Las Vegas NVIDIA announced the latest mobile graphic processors for laptops, the NVIDIA GeForce 500M series of GPUs which are designed to run alongside the latest Intel SandyBridge 2nd Generation Core i processors.
The new NVIDIA GeForce GT 500M GPU series will be found in a wide range of laptops during 2011, many fo which are being announced this week at CES 2011 from major manufacturers like Acer, Alienware, Asus, Clevo, Dell, Fujitsu, Lenovo, Medion, MSI, Samsung, Sony, Toshiba and more.
With GeForce 500M GPUs come with faster graphic and processor speeds than the previous models, allowing for better performance. Specifically NVIDIA claims twice the performance over comparative ATI GPUs when it comes to Direct X11.
What this means for users is that they will find better NVIDIA GPUs in many new laptops this year, which will deliver a better gaming and multimedia experience in a more mainstream device. Which basically means you'll be able to get better graphics at an affordable price.
Here's a video of the showing off the improvements in performance, specifically in tessellation, on a mainstream laptop.
The new GeForce GT 500M Laptop GPU models will join the existing GeForce lineup which currently includes the GeForce 315M and GeForce 410M  for mainstream users and the more powerful enthusiast class GeForce GTX 400M GPU series which includes the GTX 160M, GTX 470M and GTX 485M.
The NVIDIA GeForce GT 500M series announced today includes the following GPU models aimed at the performance segment of the market.
GeForce GT 520M
GeForce GT 525M
GeForce GT 540M
GeForce GT 550M
GeForce GT 555M
These new GeForce 500M GPUS will be found in smaller laptops with more affordable price points. We expect to see some coming in as low as $600 in 2011.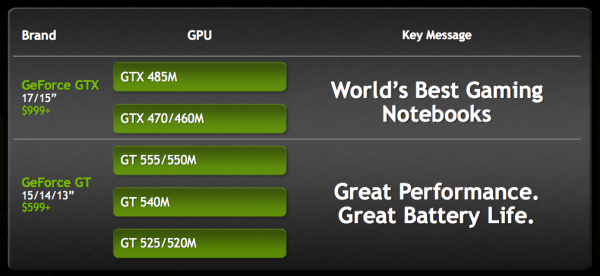 Like the previous NVIDIA GeForce GPU models the new GeForce 500M models will support NVIDIA Optimus. Optimus automatically switches between the NVIDIA GPU and the integrated GPU, in this case the SandyBridge GPU, to deliver performance when you need it and better battery life when you don't need the power.
This type of automatic switching is really nice for end users who don't need to remember to flip a switch to toggle between high performance and long battery life. NVIDIA stated that over 80% of the GeForce 500M equipped laptops will make use Optimus.
In addition to Optimus, the GeForce 500M series GPUs will support the following technologies;
PhysX support, for in-game physics
CUDA support, for GPU computing applications
3D Vision support, for eye-popping 3D
High performance Verde notebook drivers
We'll have more to share as the major manufacturers announce systems at CES and early this year that are outfitted with the new GeForce 500M GPU options.
Here's another demo of the NVIDIA GeForce 500M GPU series on an updated Alienware M17x.
Advertisement