2010 may be the first holiday season where the regular book readers have put down an eBook reader on their holiday wishlist. If you're trying to figure out which eBook reader to get the book lover on your list there are many eBook readers, but the hottest ones out right now are the [amazon_link id="B002Y27P3M" target="_blank" ]Amazon Kindle[/amazon_link] and the Barnes and Noble Nook or the Nook Color for those who want a little more.
First let's take a quick look at the Kindle, Nook and Nook Color.
[amazon_link id="B002Y27P3M" target="_blank" ]Amazon Kindle[/amazon_link] – $139 WiFi, $189 3G + WiFi
The Kindle is the premier eBook reader on the market at just 8.5 ounces it weighs less than a paperback, can hold up to 3,500 eBooks and includes a basic web browser to get online. Thanks to the new screen you also get faster pages turns and it's readable in the sun. The battery is built to last  up to a month with Wireless off or three weeks with wireless on. The Kindle can also read newspapers and play audiobooks.
Nook – $149.99 WiFi, $199 WiFi + 3G
The Nook is similar to the Kindle in price and in the fact that it has an eInk screen that can be read in sunlight without the problems of traditional screens. The Nook does include a small color touchscreen at the bottom that serves as the way you choose your eBook and navigate on the device. The Nook has a 10 day battery life and allows you to lend books to a friend for 14 days. The nook is also compatible with lending features from many libraries which is great for readers who want like to borrow books instead of buying them. There is a basic web browser as well that will allow users to check email and do other basic browsing tasks.
Nook Color – $249 WiFi
The Nook Color is the latest eBook reader from Barnes and Noble that comes with a large color screen. The Nook Color runs Android which means you also get a more advanced browser and apps like Pandora for listening to music. You can't get the same apps as on your phone, but this is a middle ground between the iPad and a Kindle. The color touchscreen means you can read in the dark without an add on light, but also means it won't be as nice outdoors in the sun. The Nook Color also gets magazines and newspapers.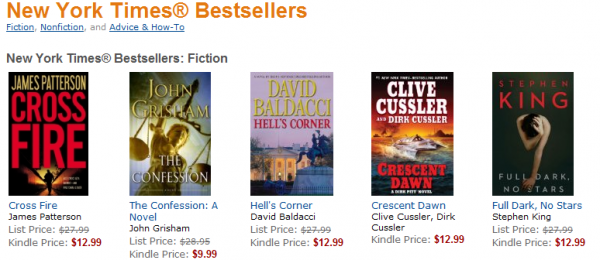 eBook Selection:
The Amazon Kindle can access over 75,000 ebooks and 1.8 Million free out of copyright books and also allows user to subscribe to periodicals and blogs. The Nook and Nook Color have access to over 2 million books and can also work with books purchased on Google Books and can borrow books from many local libraries for free. The Nook Color can read magazines as well.
The price for Ebooks is pretty much the same across the eBook stores right now (around $9.99 a book), so don't use the price of an eBook to choose your eReader at this time.

Which eBook Reader Should You Buy?
The answer really depends on what you, or your recipient will use it for and where they will use it. Here's our eReader recommendations for holidays 2010 based on users.
Grandpa or Grandma – Kindle WiFi
We love the Kindle for it's easy to use interface that won't require a support call every time your grandparents need to load a new book or turn the page. Unless your grandparents are on road trips more than Bon Jovi we recommend the WiFi only version and a router.
Mom Or Dad with a Serious Book Addiction – Nook
If like my dad your's is seriously addicted to books get the Nook. It's affordable, you can read it anywhere you can read a traditional book and most important he can check out books from the local library in addition to buying those he wants to keep.
Power User without an iPad – Nook Color
The Nook Color is our pick for the eBook reader on your list who wants the ability to do a bit more with his eBook reader, but doesn't need a full blown tablet. The Nook Color has music and game apps, can connect to the Internet and used to read magazines and newspapers. If you're recipient is a geek, he or she can Root the Nook Color to do even more — like play Angry Birds.
On the Go Parent – Kindle WiFi
If you're getting an eBook reader for a busy parent we recommend the Kindle WiFi since it can be used almost anywhere like the stands at soccer practice, in the car while waiting to pick the kids up or in bed while the rest of the family is asleep with the optional [amazon_link id="B003DZ165W" target="_blank" ]Kindle Lighted Leather Cover [/amazon_link] available for $59.99.
Book Lover without a home Internet Connection – Kindle 3G or Nook 3G
If you are buying an eReader for someone who doesn't have an Internet connection at home then the extra $50 to get a 3G connected eReader is definitely worth it. We just got off the phone with someone who was looking for an eReader for their mom who doesn't have, and doesn't plan on getting, an Internet connection and home and in this case the 3G connected eReaders are a perfect fit! If they like the library, choose the Nook otherwise pick up a Kindle.
Kindle Versus the Nook Video:
Advertisement