Last night, Samsung held a special press conference in New York City. The only piece of information that was divulged was the company's latest Galaxy S branded phone, the Samsung Continuum.
The Samsung Continuum has been rumored for quite some time now. There was even a hands-on video from Android Central a little less than a month ago.  Finally, the phone is official and is quite unique, especially from the rest of Samsung's Galaxy S lineup, thanks to a second display.
Essentially, the big features with this phone are the 1.8-inch Super AMOLED "ticker" secondary display and the grip sensors that are used to activate it.
The Ticker display can be used to show time, control your music, see status updates and more. For now there are a limited number of apps that can interact with the Ticker, but if it catches on we may see more Android Apps making use of the Samsung Continuum's ticker to deliver info.
Samsung Continuum Video: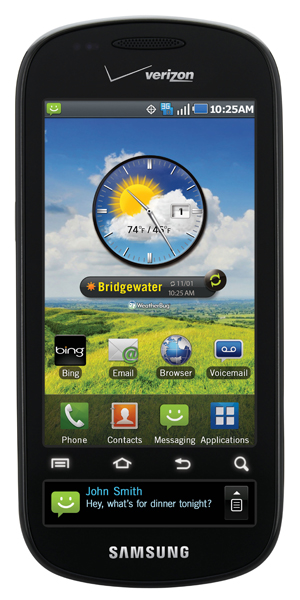 Samsung Continuum Specs:
3.4-inch Super AMOLED main display (480 x 800)
1.8-inch Cortex A8 Super AMOLED "ticker" display (96 x 480)
1GHz Hummingbird processor
Android 2.1 (Android 2.2 expected)
384MB RAM
512MB ROM
2GB internal storage
8GB micro-SD card included (expandable to 32GB)
5-megapixel camera w/LED flash
720P video recording
WiFi b/g/n
Bluetooth 2.1 + ERD
3G Mobile Hotspot capable
DLNA capable
Grip Sensor – turns on only the ticker displaying weather, social networking, IM, and e-mail notifications
SWYPE keyboard
Bing Search and Maps
Samsung Continuum Hands On:
For a closer look at the device check out Engadget's hands on with the Samsung Continuum for additional video and a close up of the Tickr display as well as Laptop Mag's first impressions of the Samsung Continuum and hands on to see why they called the ticker, "stealthy cool".
The Samsung Continuum will be available online on November 11th for $199.99 less a $100 mail-in rebate with a new two-year agreement. It will be available in stores on November 18th.
Pictures Via Engadget, BGR, Electronista, Android Central, and LAPTOP Magazine
Advertisement