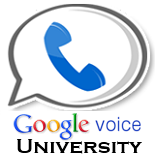 Recording phone calls with Google Voice is easy to do and a great way to keep track of important information like directions, a new task from your boss or an important phone call with a customer service representative.
This guide is part of a series we're calling Google Voice University, which will take you from a beginning Google Voice user all the way up to a Pro in a series of short guides. This Google Voice 201 level guide will teach you how to record calls with Google Voice.
The only downside to this method of recording calls is that you cannot record outgoing calls be default, but if you have a minute you can set up a shortcut to record outgoing calls in Google Voice.
How to Record an Incoming Call with Google Voice:
When you receive a call you want to record in Google Voice answer it like you normally would and then press the number 4. This will announce to all callers that you are recording the call and begin the actual recording.
When you are done, press 4 again to stop the recording, or just hang up. The calls will be available for you to listen to online in your Google Voice home page under the "Recorded" calls label. You can listen to the call online or download it as an MP3.
How to record a Call with Google Voice – Video:
How to Record an Outgoing Call with Google Voice:
Unfortunately you need to be in front of a computer to make use of this "hack". The full steps come compliments of Maven1 on the Google Voice Help forums.
Note: This may require the other party to press 1 before the call is completed so you may not be able to use it with all outbound calls.
Step 1: To get started visit the settings page of Google Voice, click "Add a new Call Widget".
Step 2: Choose which phones you want this to ring and give the widget a name. Click Save Changes.
Step 3: Copy the embed code that Google Voice provides.

Step 4: Open up notepad on your computer. Type the following:
<html>

<body>

paste Google Voice code here

</html>

</body>
Step 5: Save the file as recordacall.html to your desktop.
Step 6: Double click on recordacall.html. It should open in your browser with a widget that looks like the following.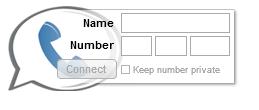 Step 7: When the call connects press 4 to begin recording.
Note that the call recording in this setting will activate the prompts you often need to press when calling a toll free customer support line and you may at times have trouble connecting so this isn't foolproof, but it will work in most settings.
This guide is part of part of Google Voice University, a series designed to get anyone up and running with Google Voice. We've already covered How to get started with Google Voice and How to be Google Voice Power user; stay tuned for more Google Voice guides and how tos.
Advertisement