Joining a growing crowd Samsung announced the Samsung NF series of netbooks that will be powered by the Intel Atom N550 dual-core processor. The NF Series includes three netbooks, the NF310, NF210 and NF110. These models will be available in Europe starting in October and in the U.S. sometime after.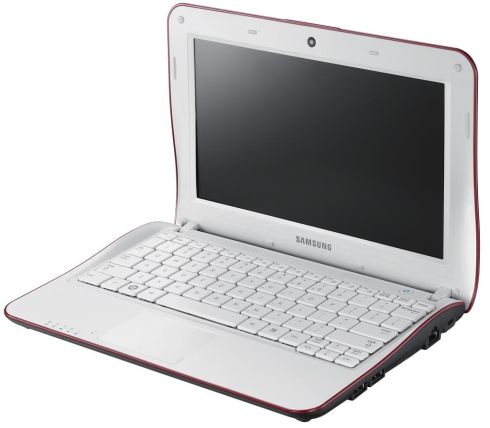 The Samsung NF series of netbooks sport a new design that puts the bulk of the machine near the hinge, allowing the case to taper off towards the front of the device. The design adds some curves to the overall notebook that set it apart from the looks of many other netooks we see coming to market this year.
The Samsung NF310 netbook is powered by a 1.5GHZ Intel Atom N550 dual core processor, comes with a 1366 x 768 HD display and Windows 7. No other specs have been announced for this netbook.
The Samsung NF210 looks like it will be the go to netbook for those who want to leave the power adapter at home. The NF210 comes with a 5-cell battery that Samsung has rated at 14 hours. No further information is available at this time.
The final netbook announced today, the Samsung NF110 is a budget netbook designed to offer an entry level model for consumers looking for a small and portable machine,but with no need for the latest processors.
All of these netbooks come with Samsung Easy File Share, to simplify sharing files with another computer over the same network, including the ability to connect directly to another computer in ad-hoc mode.
Via Liliputing
Advertisement