Today Microsoft released a new beta version of Microsoft Security Essentials the company's free security and anti-virus software. This release is not the final version but does bring along new features that will help users protect their computers for free.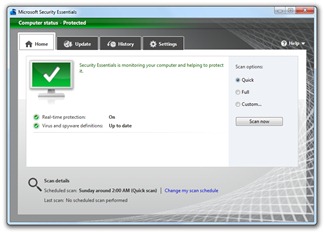 New Features include:
Windows Firewall integration During setup, Microsoft Security Essentials will now ask if you would like to turn the Windows Firewall on or off.

Enhanced protection for web-based threats Microsoft Security Essentials now integrates with Internet Explorer to provide protection against web-based threats.

New protection engine The updated anti-malware engine offers enhanced detection and cleanup capabilities with better performance.

Network inspection system Protection against network-based exploits is now built in to Microsoft Security Essentials.
Users can download the new beta version directly from Microsoft and it will replace their existing Microsoft Security Essentials installation. The protection from Microsoft Security Essentials, while free, is still very good and on par with many paid products.
Advertisement