With Black Friday and Thanksgiving almost here we took a few hours to put up our Christmas tree this weekend and as I went to put on the last ornament, a USB Picture frame Snowman my in-law's purchased at Bronners last year, I decided it was time to put pictures on the small picture frame.
When I plugged the Digital Photo Ornament from Memory Works (aka Emerald Innovations from Butler, PA) I was confronted with a warning from Microsoft Security Essentials, telling me that the Christmas Ornament was carrying the gift that keeps on giving — a computer virus. In this case a Worm which Security Essentials called "Severe". This ornament was purchased in late 2009, but you can find many similar ornaments from the same company at places like Walgreens.
Thankfully I had the free Microsoft Security Essentials installed instead of an expired trial version of some paid Antivirus software which likely wouldn't have caught the virus and could have easily caused havoc on my computer. If I wasn't running an up to date antivirus app it could have led to an interesting conversation on Thanksgiving!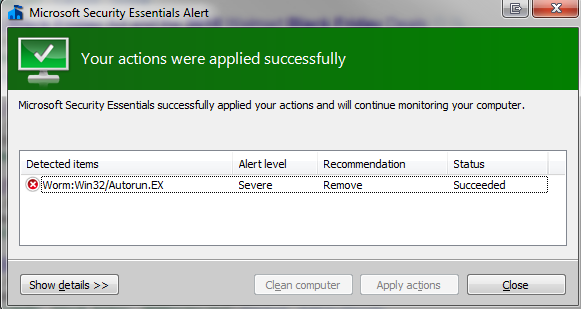 This isn't an isolated incident, every year some Digital Photo Frame or MP3 Player comes preloaded with a work, trojan or other virus right on to store shelves and is given to mom, dad, brothers, sisters and even grandparents who end up losing files, time and money because they don't have a free and worthwhile security solution.
If you don't already have an up to date antivirus program, I suggest you get one like Microsoft Security Essentials and install it on your computers and on the computers of your family members over Thanksgiving.
Advertisement