Netbook News recently got the chance to take a closer look at the Toshiba Libretto W100. The Libretto W100, announced last month, is a dual-touchscreen tablet.
Toshiba released these specs for the new tablet that is expected to be released in limited quantities in Japan in late August.
Dual 7-inch multitouch capacitive displays (1024×600 resolution)
1.2GHz Intel Pentium U5400 processor
2GB RAM
62GB SSD
Intel HD graphics
802.11b/g/n WiFi
3G (European and Japanese models)
WiMAX (Japanese models only)
Bluetooth
1-megapixel webcam
2 hours with 4-cell battery, 4 hours with 8-cell battery
Micro SD card reader
Windows 7 Home Premium
Virtual Keyboard
The Libretto W100's virtual keyboard is very unique. It enables the user to choose from 5 different keyboard set-ups. If desired, you can enable a touchpad to get a more netbook-like feel. Alternatively, you can turn off the keyboard entirely, via a button located on the left bezel. This would give a more tablet-like feel. Netbook News notes that the haptic feedback found on the Libretto W100's keyboard really sets it apart from other virtual keyboards. Whenever a key is pressed on the keyboard, a vibrating sensation lets the user know that they have pressed a key.
E-Reader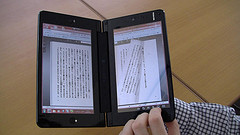 The Libretto W100 brings dual page functionality to the e-reader market. Holding it as you would a book proves to be a "natural thing to do", notes Netbook News. The dual multitouch displays allow you to turn the page of the e-book by dragging it. The Libretto W100 will be shipping with Amazon Kindle software preloaded.
Bulletin Board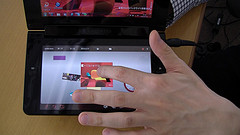 Toshiba created a touch-friendly way to navigate the Windows 7 atmosphere on the Libretto W100. The interface is composed of multiple boards that allows you to manage and open programs, change settings, save files, and even draw pictures. Flicking left or right cycles through the various boards, similar to the different pages of apps on an iPad. Like the keyboard, this interface can be turned off, giving you a normal Windows 7 experience.
Dual-Screen Help
When the title bar of an open window is tapped, the Toshiba helper app appears, providing the option of making the window fill the current screen, the top or bottom screen, or both of the dual 7-inch displays.
Conclusion
Netbook News noted many pros of the Toshiba Libretto W100. However, the new device will debut at 125,000 yen in Japan, which means that it could be well over $1000 in the US. Also, for a tablet/netbook of that size, it does not have a long battery life. Other cons that were noted are the slow processor speed, high operating heat, and significant noise.
The Toshiba Libretto W100 will be available in late August in Japan for 125,000 yen. Toshiba has not set an official date or price for a US release.
For more coverage and pictures, visit Netbook News' coverage of the Toshiba Libretto W100.
Via Netbook News
Advertisement