If you've ever hooked up a computer to your HDTV in hopes of doing more than watching Hulu Desktop you may have quickly run into the "halo" effect. No, I'm not talking about lost productivity due to playing the popular video game franchise from Microsoft, but the halo that surrounds text and makes it hard to read. Most notably, unreadable text may appear when you connect your notebook to your HDTV with a HDMI cable and disappear when you connect it with a VGA cable. Thankfully, Jason Dunn of LaptopThoughts.com shares the solution for clear text over HDMI; saving you the hours of frustration he went through.
As you look at the image above you'll see Jason's screen before he adjusted the sharpness level of his HDTV. For a closer look at what text with a "halo" effect looks like see the image below.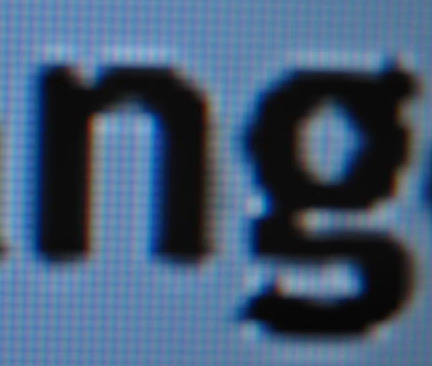 To get rid of the "halo effect" Dunn had to adjust the settings on his HDTV, not his computer. After a bit of research he found that the default sharpness setting for HDMI was higher than that of VGA which led to the hard to read text. Simply turning down the sharpness gave him a much clearer image which you can see at LaptopThoughts.
If you haven't been over to the newly launched LaptopThoughts.com I highly recommend a visit. The website is young, but is already in the must read section of my feed-reader.
Advertisement