The second day of the iPhone Pre-order apocalypse has gotten worse.
I was curious if the July 2 date was still in order so I tested it out. I've already reserved an iPhone with Best Buy. But I opened the iPhone app on my iPad and went through the ordering process to the point where they state the ship date. As you can see from the screen shot the ship date for orders is now July 14 instead of July 2 or June 24.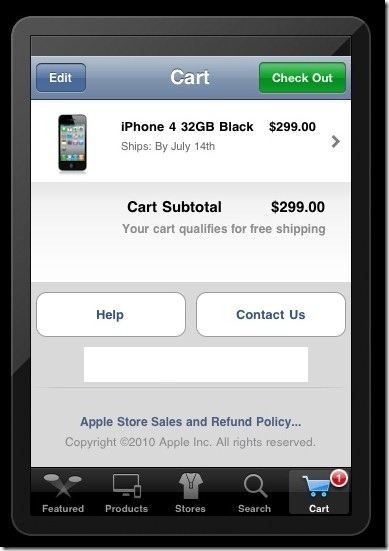 That would be a shame if that was the only problem people ordering from here on out getting it three weeks later. But now Gizmodo is reporting that some people who did get their order in on time are facing problems. Some are having their ship date pushed back from the promised June 24 at the time of their order to July 14. A few people who wanted to pick up their order at the Apple Store are claiming that their orders were cancelled and they are being told to reorder with the July 14 shipping date.
It is clear that the demand was far greater than Apple's expectation leaving a black eye on Apple's reputation. And as you can expect, already opportunists are trying to cash in with exorbitant prices on eBay. For example, this auction (below) is for a 32GB model for $2,000, nearly 7 times the contract price and more than three times the non-contract price.
This whole thing is making me far less confident that my Best Buy reservation for a 32GB iPhone is likely to be available next week.
Advertisement