Do you have what it takes to become a FIFA Superstar? Playfish announced a Facebook application called EA SPORTS FIFA Superstars that allows users to build their dream team.
Users can create club teams, while signing on their favorite soccer players. Users must train their players and choose their playing formations in order to work their way to the top. The new Facebook application also allows versus matches between friends, increasing the competitiveness.
The application currently has a 4.3 out of 5 star rating with 856,917 current users, proving the game is an engaging experience with a lot of competition.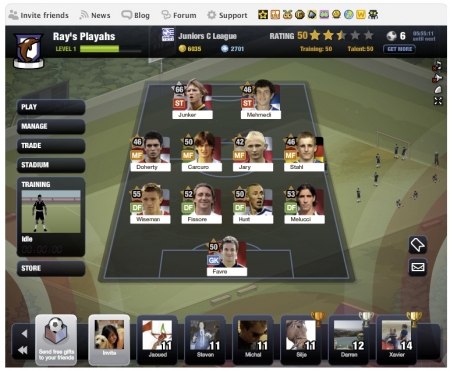 Users are first assigned a set of players that vary in ability based on shooting, control, stamina, and strength. Players can be transferred by buying Gold, Silver, and Bronze transfer sets. Bronze players are international quality, Silver are star players, and Gold are Soccer's world superstars. Cash and experience is earned by playing each of your friends once a day. Stadium upgrades can also increase revenues and training levels.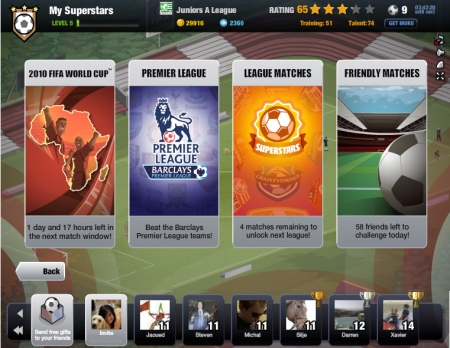 Four modes of gameplay exist: Friendly Matches, League Matches, Premier League, and 2010 FIFA WORLD Cup. In 2010 FIFA WORLD Cup, game scores of upcoming games can be predicted, with points being awarded to those who predicted the score or winner correctly; points add up to Coin prizes, Match Credits, and Gold rated players.
The Facebook Application can be installed here.
Here is a bio on the creator of the application:
"Playfish is one of the world's largest and fastest growing social games companies. The company combines creativity, innovation and originality to create games for friends to play together over social platforms such as Facebook. Playfish's mission is to change the way people play games by providing more social and connected experiences."
For more information about EA Sports FIFA Superstars, or other Playfish applications, visit Playfish's Blog
Click here to learn how to follow the World Cup 2010 in South Africa.
Advertisement