The Sprint EVO 4G is the newest Android device to hit Sprint's network, and the first with 4G connectivity that allows the device to surf the mobile web at speeds of up to 13MB per second! The EVO 4G has a lot to like, a 4G connection that can be shared with up to 8 other devices, a big screen, the Android OS, an 8 megapixel camera and a front facing camera. But, there are some things to watch out for including lackluster 4G connection speeds and higher 4G data plans even if you don't live in a 4G area. At its heart, the Sprint EVO 4g looks to be a truly early adopter device for geeks to adore and show off, but we'll let you make up your own mind.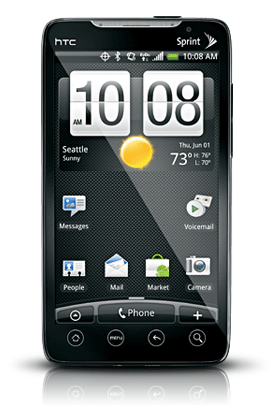 The following info will help you understand what all the buzz about 4G means, where you can find it and finally, reviews of the Sprint EVO 4G.
Sprint EVO 4G pricing and availability:
The Sprint EVO 4G is available starting today from on the Sprint network for $299 on a 2 year contract. This price is dropped to $199 after a $100 mail in rebate from Sprint. The Sprint EVO 4G is also available from Walmart, Best Buy and Radio shack for $199 without the need to mail in a rebate form. You can get the EVO 4G nationwide even though 4G service is only available in 33 areas.
Currently Sprint 4G is available in the following areas: Georgia – Atlanta, Milledgeville; Hawaii – Honolulu, Maui; Idaho – Boise; Illinois – Chicago; Maryland – Baltimore; Missouri – Kansas City; Nevada – Las Vegas; North Carolina – Charlotte, Greensboro, (along with High Point and Winston-Salem), Raleigh (along with Cary, Chapel Hill and Durham); Oregon – Portland, Salem; Pennsylvania – Harrisburg, Lancaster, Philadelphia, Reading, York; Texas – Abilene, Amarillo, Austin, Corpus Christi, Dallas/Ft. Worth, Houston, Killeen/Temple, Lubbock, Midland/Odessa, San Antonio, Waco, Wichita Falls; Washington – Bellingham, Seattle.
What's the deal with 4G? Why am I paying more? Where is Sprint 4G available?
On paper, Sprint's 4G network will deliver speeds 10 times faster than a traditional 3G connection, or at 6MB per seconds. That's as fast as many standard home high speed connections. PC world tested the speed of Sprint's 4G network and found that while the speed varied, it still gave home connections a run for their money. In Las Vegas, PC World recorded speeds of 11-13 MB per second with a low end of 2MB per second. Keep in mind, Sprint's 4G network is still young and there will be some sluggish areas, and it may not be available where you live, but Sprint is working on expanding the 4G reach to 120 million people by the end of 2010.
One of the cool features of the EVO 4G is its ability to do video calls with a service like Qik. You can see an example of video calls on the Sprint EVO 4G below.
With great speed, comes a great pricetag. Well, not a great one, but the Sprint EVO 4G requires a $10 a month "Premium Data" charge to account for the data hungry nature of the device and its 4G access. This $10 premium is charged even if you are not in a location with 4G. The total bill for a Sprint Everything Data 450 plan would by $79.99, including the premium.
If you plan to replace your home connection, you'll probably need to fork over an extra $30 a month for access to the Sprint EVO 4G's Mobile Hotspot capability which allows you to share the 3G or 4G connection with up to 8 devices.
Sprint Evo 4G Review Roundup:
In general, reviewers love the new Sprint EVO 4G, but note that poor battery life is a big factor to consider. As you read these reviews and think over a purchase, it is important to remember that there will be more 4G phones on Sprint and there is a 30 day Sprint Free Guarantee if you want to test it out yourself. Also, keep in mind that a new iPhone will be announced on June 7th.
All Things D – Sprint 4G Phone Hits New Speeds, but Battery Lags: "My verdict: The HTC EVO 4G, when used on Sprint's 4G network, offers the highest consistent downstream data speeds I have ever seen on a cellular network. It also has a number of other strong features: a front-facing camera for video chatting, and the ability to serve as a Wi-Fi hotspot (for an extra fee of $30 a month) that can simultaneously connect up to eight laptops or other devices to the Internet." – Walt Mossberg
Laptop Magazine – HTC EVO 4G: "At 800 x 480 pixels, the resolution on the Evo 4G is the same as the 3.7-inch HTC Droid Incredible and Motorola Droid, so you're getting the same amount of pixels per inch in a bigger space. The Incredible also has the advantage of an AMOLED panel for increased brightness, better contrast, and wide viewing angles. Still, the Evo 4G's screen was plenty bright and crisp. A high-quality YouTube trailer of the upcoming Karate Kid remake exhibited plenty of detail and very good color saturation.
The speaker on the Evo 4G delivered impressive volume when we streamed some of our favorite Pandora stations, and it delivered loud and clear directions when using the phone as a GPS navigator." – Mark Spoonauer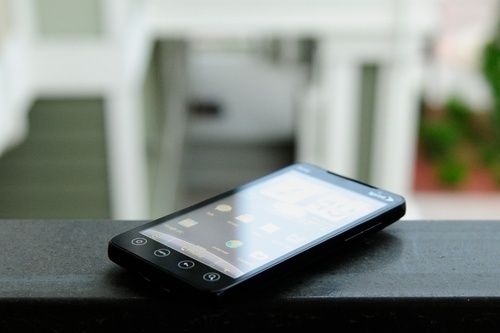 Gizmodo – not a stolen phone
Gizmodo
– 
HTC Evo 4G: Some Notes on a Juggernaut
: "Bigger isn't better everywhere, however. The cameras—the front and the back—are disappointing based on the initial stuff I've shot, quite frankly. The 720p video is solid proof resolution isn't everything. The bitrate is around 5 megabits per second, so there's not a lot of data in that video. (By comparison, the 720p video pumped out by the T2i is around 45 Mbps.) And the front-facing camera? Taken from the Qik app, ick (Update it's slightly better coming from the regular camcorder app at 640×480 resolution, below):" –
Matt Buchanan
Be sure to visit Gizmodo for examples of the video shot with the EVO 4G.
Engadget – Grandson to the G1
Engadget
– 
HTC EVO 4G review
: "That said, this is truly one of the best smartphones ever made, and even spotty 4G — a reality of a young technology that's going to take years to properly build out — probably won't do much to hamper your enjoyment of this thing. It's reasonable to assume that phones like the EVO will ultimately come to every carrier over the next few months… but hey, if you jumped ship for Sprint to pick up this monster, we wouldn't be able to blame you." – 
Chris Ziegler
Engadget has one of the best reviews of the Sprint EVO 4G and includes the following video to show you around the phone.
CNet – HTC EVO 4G – Keyboard impressions and ports: "Another benefit of the large display is a spacious keyboard that rivals the iPhone's in ease of use. Even in portrait mode, we were able to quickly punch out a message with both thumbs (none of that pecking at the keys with one finger) with minimal mistakes. As you can imagine, the landscape keyboard is even roomier, but most times we found we could get away with just typing in portrait mode.
Below the screen, you get four touch-sensitive navigation controls: home, menu, back, and search. A long press of the home key will bring up a list of your most recently used apps. There's a volume rocker on the right side, and the top of the device features a power button and 3.5mm headphone jack. On the bottom, you'll find a Micro-USB port and an HDMI port. Be aware that the latter is a Type D connector, so you'll have to get a compatible cable to hook the phone up to your TV. Of course, you can watch video and view photos right from the phone, and there's a handy kickstand on back so you can prop the phone up on a desk." – Bonnie Cha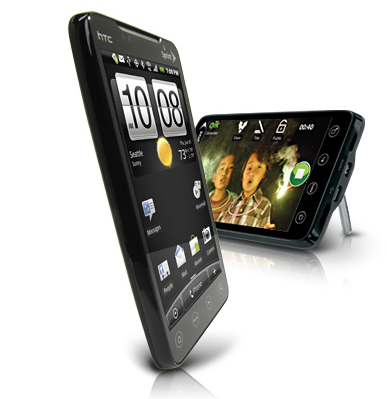 TechCrunch – An iPhone Lover's Take On The HTC EVO 4G: "If you're a fed-up iPhone user looking to switch to an Android device, there are better options. If you're a happy iPhone user that is interested in Android devices, you probably won't like this one much at all.
And no matter what camp you're in, if you do buy this thing now, you'll probably be kicking yourself in a couple of months as better 4G devices hit. Or you'll be kicking yourself in a couple of months when better Android devices hit. Or you'll be kicking yourself in a few weeks when the new iPhone HD (or whatever it will be called) hits." – MG Siegler
The TechCrunch EVO 4G review is another favorite, and a must read.
Android Community – Sprint EVO 4G review: "Voice performance with the EVO 4G has been mixed, falling short of what we're used to with the Nexus One, for instance. There's a loud speakerphone, though lacking in some clarity, and the handy pop-out kickstand on the back makes it easier to not only hear callers but to comfortably view multimedia playback. Battery life is the obvious victim to all this connectivity, and while it's usual to have to recharge a modern smartphone daily, using the EVO 4G's WiMAX will see you whip through a full charge in a matter of hours. We managed around 5 hours 20 minutes talktime with 4G turned on; expect that to drop by 2 hours or so if you're using mobile hotspot." – Ewdison Then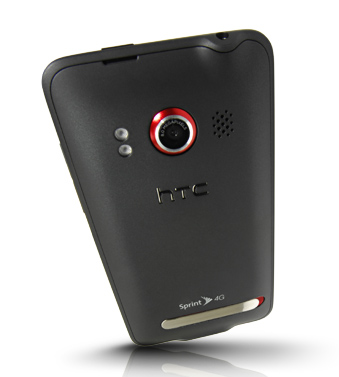 ZDNet – HTC Evo 4G is the Android phone to beat – "Is it perfect? No. But it is better than the iPhone 3GS, and it's the third phone that's better than the iPhone 3GS. When Android 2.2 comes out for the Evo (soon, please?) it will take another huge leap forward. Apple definitely has its work cutout for it and if all it has is what I've seen in the iPhone OS 4 builds and the iPhone HD leaks, then the war may already be over." – Jason D. O'Grady
Sprint EVO 4G Specifications:
Qualcomm 1GHz Snapdragon CPU
512MB RAM / 1GB ROM
microSD card slot (8GB preinstalled)
WiMAX
EVDO Rev.A / CDMA 800/1900
WiFi b/g
Bluetooth 2.1+EDR
GPS
8-megapixel autofocus camera with dual LED flash
1.3-megapixel front-facing webcam
microUSB / mini HMDI
G-sensor / proximity sensor / light sensor
FM radio
1,500mAh battery
4.8 x 2.6 x 0.5 inches / 6 oz
Android 2.1 with HTC Sense
Advertisement