The new MacBook Pros offer 8 to 9 hours of battery life. The iPad gives us 10-11 hours of battery life. Suddenly 5-6 hours of battery life on a netbook with an extended battery sounds paltry. Asus thinks so too and is now offering a 13 hour battery in its Asus EeePC 1015P and 1015PE netbooks. The Windows 7 netbooks each have a 6 cell Li-ion battery that offers up to 13.5 hours of wireless productivity on a single charge.
Of course you have to remember that the claimed life is under certain very narrow and controlled conditions. However, even with the 80% rule you would still get about 10 hours on a single charge.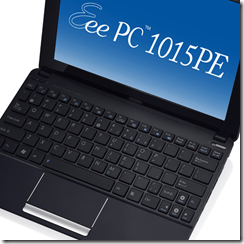 The only differences between the two models are available colors the 1015P comes in White, Black and Blue. The 1015PE adds Red and Pink in two different finishes. Aside from that the other details are the same.
Both come with a 10.1-inch screen with 1024×600 resolution, an Intel Atom Pineview-M450 processor, 1 GB of RAM (expandable up to 2GB), Wi-Fi and Bluetooth. Storage comes in the form of either a 160GB, 250GB or 320GB hard drive and 500 GB of online storage. These EeePCs are equiped with a .3 MP camera, 1 VGA output, 3 USB ports, an Ethernet port, headphone jack, microphone input, and a memory card reader.
While shopping make sure you are getting the 6-cell 63W/h battery if you want the 13.5 hours of juice. There are optional 56, 48, and 23W/h batteries as well.
There is no official word yet on availability date and pricing, although one site is reporting they will start at just over $400. There's also reports that these notebooks will have NVIDIA Ion graphics.
Advertisement