Thanks to the success of Apple's App store for the iPhone and iPad, countless companies have unveiled versions for their devices. The most recent is HP, who announced today that the company was launching the HP Download Store which will serve as a, virtual marketplace for consumers and small business owners."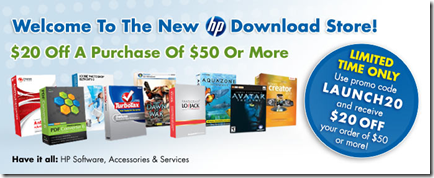 HP says the company created it to help customers find just the right applications for their needs. It launches with about 200 apps ready for purchase and download; including software titles that help with business productivity, finance and games.
One reason for the store is to help HP netbook customers who will be able to buy and download software instead of going through the difficult process of installing CD or DVD software without an optical drive. User will be able to re-download any purchased products for up to two years, which to me is a weakness — not a strength. Why not allow users to download the titles for as long as the store is in service?
The store will also have subscriptions for some services. An example is the Virtual Rooms service which is an online meeting site. Users can include audio, video, and desktop sharing in the session. The cost starts at $12.95 per month and goes up to $90 if you want to be able to do live tech support. If the lower priced versions work well and are comparable, they are a bargain compared to services like Go To Meeting which is $49.00 per month.
Another is a service on the HP Netbook App store that lets you do simple online tech support is HP SmartFriend Assistance which costs $19.99 a month. It lets you be the tech support for your friends and family with certain PC or Mac programs. Similarly there is the HP Performance Tune-up service. It helps to overhaul your system to get it running at peak efficiency. They will not only tweak things to run smoother but remove viruses and boost overall PC performance." The best part of this service is you can watch them do it, meaning they won't be able to steal your special goodies like some of the brick and mortar services have been accused of doing.
From now till the end of May you can get $20 off any purchase of $50 or more if you use the LAUNCH20 promo code.
I checked a sample of just five titles chosen because they were the ones listed at the top of the page. In every case the price was more expensive than one could find elsewhere. In a couple of instances they were far higher, but most were just a little bit higher. The ability to download them again might make paying a few dollars more worth it. Here are the titles I compared:
Quicken Started Edition 2010 HP price: $29.99 but found via Google Shopping for as low as $26.00
Microsoft Office Home and Student 2007 HP price: $149.99 but found online for as low $74 at a retailer rated with 4.5 stars
Adobe Photoshop Elements 8 HP price $89.99 but found for $51 at a retailer with 4.5 stars
Star Trek Online Deluxe Edition HP price $59.99 but found online for as low as $49.99. This was for the collector's edition, edition instead of the Deluxe.
You can read the HP press release yourself.
Advertisement