Today, Adobe announced Creative Suite 5 which includes applications for advanced photography, illustration, web design and video editing. There are some interesting new features in the upgrade that may make the cost worth it if you are a professional in any of the areas this suite focuses on. If you want to see the announcement and overview videos then go to their Adobe TV site. There are five different suites available now for preorder. But look at those prices! The least expensive of the applications is $199. The Master Collection is a whopping $2,599. Upgrades are available for much less and if you have a student or teacher in the house look for educational discounts. My wife is a teacher and we have two students so I got Photoshop for $200 legally.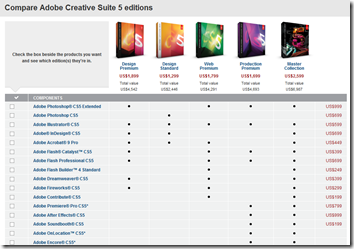 There are some great new features like the Content Aware Fill feature demonstrated in the video below. It removes objects from a photo and automatically fills the area with what the program thinks would be there. Josh Smith takes a closer look what's coming in the new suite.
The question is, do you really need all of that power? The truth is, there are free and inexpensive alternatives to most if not all of the tools in CS5. Here are some of the most popular alternatives that are either cheaper or free.
Photoshop
Photoshop has anything an image editor would possibly need. However, a lot of that power is also available in the consumer version Photoshop Elements for $100 or less. If you don't even want to pay that much, The Gimp is a nice free, open source alternative. Another solution is Paint.NET. Both are cross platform programs.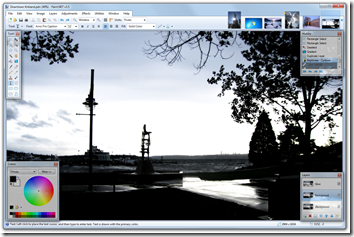 You don't even have to download software to edit images. If your needs are simple enough, just use Google's Picasa or Adobe's own Photoshop.com. More advanced editing can be done online via Picnik.
Illustrator
Illustrator is a powerful tool for creating art and graphics. Corel's Painter Essentials is an inexpensive alternative while Inkscape is a free, open source alternative.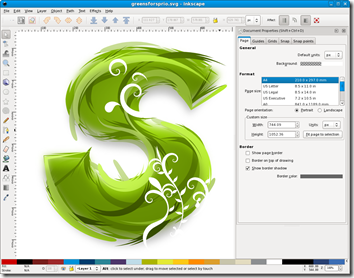 Another free alternative is Creative Docs .Net.
Indesign
Adob'e Indesign is the standard for desktop publishing. Microsoft has Publisher for a fraction of the cost or you can try the free Scribus which is a nice cross platform application.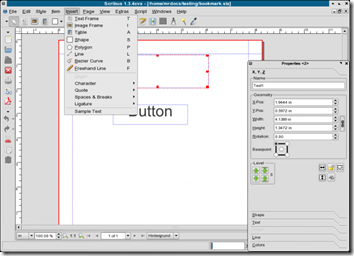 Acrobat
Acrobat PDFs are everywhere. Fortunately, if all you need to do is create simple documents there are many ways to do that without Acrobat. From within Microsoft Office you can export to PDF. To export to PDF from programs that do not have this feature, use a PDF printer driver like Bullzip. It installs a virtual printer driver that saves documents as PDF files. There are many others like Bullzip. Adobe also provides an online tool for uploading a document and converting it to a PDF.
If you want to edit and mark up PDF files, there is also Grahl software's PDF Annotator. It is only $70 and the company is generous to students and often has great deals. Inking on a Tablet PC or Wacom pad is great. The combination of one of the free PDF printers, like Bullzip and PDF Annotator give you all you need for simple PDF creation and editing/markup for far less than Acrobat.
Flash
If you have ever watched TV on Hulu, videos on YouTube, or played games online then you have used Flash. The question is could you create flash without Adobe? Tools like Synfig might be a useful alternative. I've never used it, but it is one option and runs on Mac, Windows or Linux. HTML 5 and h.264 video and might help make Flash obsolete, but not for a little while.
Dreamweaver
Dreamweaver is a WYSIWYG editor for creating Web sites. There are a ton of those on the web for free or far less. And one alternative is to actually learn to write code directly in things like HTML, CSS and XML. Then all you might need is a text editor. But who has time for that? Kompozer to the rescue! This is another cross platform tool that is free and open source. If you have ever heard of Nvu, then you've heard of Kompozer. It is powered by Mozilla's Gecko engine.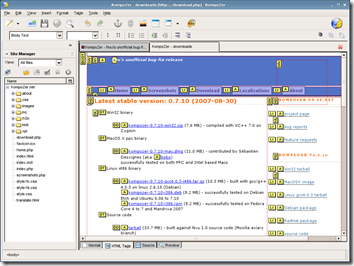 Premiere Pro
Premiere Pro is used for editing video. But there are less expensive and simpler to use video editing options. If you are on a Windows PC, you may already have Windows Movie Maker. For Windows 7 users get Windows Live Movie Maker. Unfortunately, it is less functional than the older Movie Maker 2.6. But that is still available as a free download from Microsoft. Many CD/DVD burning suites like Nero or Roxio have video editing built in. The Mac has iMovie included. Final Cut Express is a great tool for the Mac as well. It costs a little more than most of the other alternatives we've mentioned, but I'm told it is worth the $200. Finally, some might want me to suggest Adobe's Premiere Elements. Like Photoshop Elements it has a lot of the tools the Pro version has. But I cannot recommend it since it fails miserably when it comes to editing files on most popular consumer HD video cameras. In my own experience version 8 is nearly useless if you don't first convert the HD video to MPG. Two alternatives I have used in past version are Magix Movie Edit Pro and Pinnacle Studio. I have not used the latest versions. There might be others that work better, but I have not tried them either.
Soundbooth
If you want to edit audio, Soundbooth is a nice program and one of the least expensive in the Adobe lineup. But a very good free, open source alternative is Audacity. Our church uses it to record our Sunday messages. It does a great job and with some plug-ins can do much of what Soundbooth does. It is also cross platform. Like video editing, if you have Nero or Roxio then you also have audio editing software too.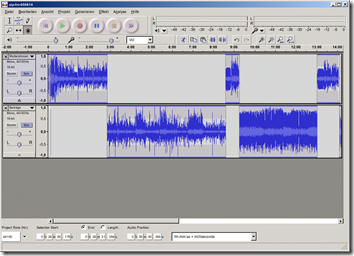 Finding Alternatives
These are the majority of the CS5 programs. If you ever want to find an alternative program, a great web site to search is AlternativeTo. It lists the majority of the programs for Windows or Mac and then gives both free and premium alternatives. Each alternative will be ranked by how many of the sites users say they like it. Most have short comments reviewing the programs.
Advertisement