If you use the internet much you likely have a folder full of files that you've downloaded. Sound clips, images, a few PDFs, installation files for the last 3 versions of AIM; the list goes on and on.
Even those of us who take pride in a clean desktop can slip up and end up with a desktop full of old files that aren't important. Cleaning up your desktop and your downloads won't make your computer run faster, but it will help you find things quicker and with Belvedere you can automate your file and folder cleanup!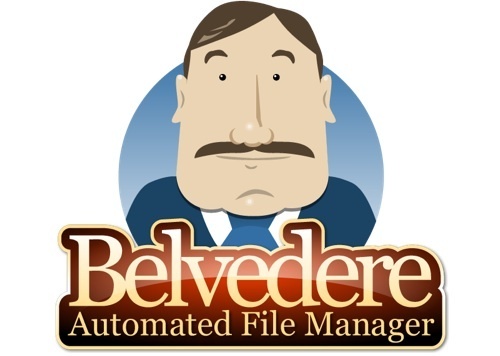 Belvedere is an open source program created by the geniuses behind Lifehacker.com and is a completely free file organization tool. If you're running OSX you should check out Belvedere's female companion Hazel, who will perform a similar computer cleaning feats for $22. There is a 14 day free trial if you want to get to know Hazel before hiring her full time.
Belvedere and Hazel make it easy to keep your computer clean and organized based on a set of rules; much like those you use to organize your email.  The thing I really like about Belvedere is that the software is easy to learn and once you set it up; there's little interaction required to keep things humming along — just like hiring a good butler.
Here are some common tasks that Belvedere can perform to keep your computer clean and organized:
Move common file types to a specific folder ( Move all .mp3 files from 'My Downloads' to 'My Music )
Get rid of unnecessary desktop shortcuts ( Removes all the random shortcuts that are installed with new programs )
Automatically clean out old, unused files ( Remove files not used in a specific time frame to a specific folder or the Recycle Bin )
Empty your Recycle Bin automatically
Add downloaded music to iTunes
Lifehacker has a complete walk-through for setting up each of these tasks and once you've added a few, it's easy to add variations that fit your computer use and commonly downloaded file types. You can test each rule to ensure that you don't end up deleting important files and, if you desire, make Belvedere confirm an action every time it wants to run a specific rule.
This is my first experience with Belvedere, but it already looks like I have found a new program to add to my must install list.
Advertisement