Apple's released a dozen guided tours to show off several applications that come with the iPad, as well as the three iWork applications. The iPad guided tours are easy to understand and  non-technical.
As of today, the following iPad guided tours are available: Safari, MAil, Photos, Videos, YouTube, iPod, iTunes, iBooks, Keynote, Pages and Numbers. We expect to see more guided tours, including how-to videos and walk troughs of the iPad settings control panel.
Customers who pre-ordered the Apple iPad will begin receiving their shipments at the end of this week. The iPad is available for pre-order, but is sold out of its first batch. The iPad will not be available at Apple retail stores on April as originally planned. The company is currently quoting April 12 as the earliest delivery date for online orders.
According to TUAW, the Apple iPad will be available in limited quantities at Best Buy retail stores. TUAW is citing a leaked Best Buy document that states that each Best Buy retail store will receive 15 iPads for resale and a handful of demo iPads. There will be a second shipment coming in on April 11 for a special event that Best Buy plans on promoting heavily in newspaper ads. The Apple iPad will not be sold at BestBuy.com for the time being.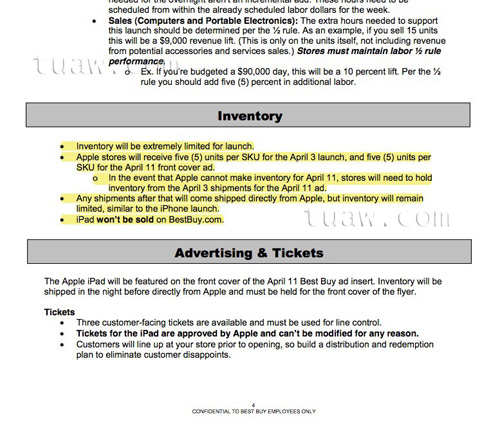 Advertisement