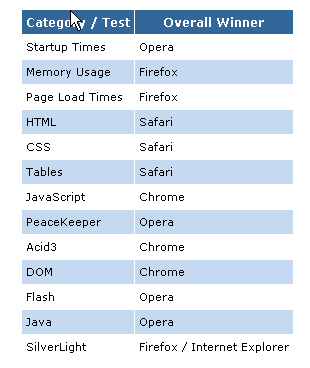 With so many browsers available for surfing the web choosing the one that fits you isn't an easy task, especially if you aren't familiar with the strengths and weaknesses of the numerous popular browsers. Some people want a blazing fast browser while others might be more concerned with security and still others will be concerned about memory usage and other functions.
To make the browser choice easier Tom's Hardware reviewed and compared the 5 most popular browsers and ranked them in numerous categories.
Tom's Hardware compared Google Chrome, Mozilla Firefox, Safari, Internet Explorer and Opera. TomsHardware's comparison looked at  the following criteria start up times, memory usage, page load times, HTML, CSS, tables, javaScript, PeaceKeeper, Acid3, silverlight, flash, java and security.
To determine a winner Tom's Hardware tallied the wins of each browser, represented on the chart below, and found that Chrome came in first even though it tied Opera in overall points. Internet Explorer came in dead last with an impressive 14 5th place finishes.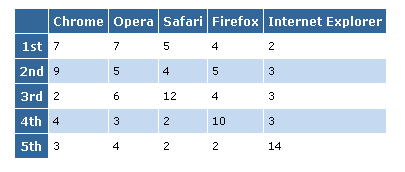 To see the full article and learn more about each comparison, head over to Tom's Hardware.
Source: TomsHardware
Advertisement