Late last year fashion designer Vivienne Tam unveiled the new Digital Clutch on the catwalks of New York, showing off the sleek gold netbook emblazoned with butterflies. At the time the only thing we knew was that it was a follow up to the very red HP Mini 1000 Vivienne Tam edition that was released almost a year previous; but now we know that the new HP Vivienne Tam Digital Clutch is a branded version of the HP Mini 210 with Beats by Dr Dre audio for an enhanced listening experience.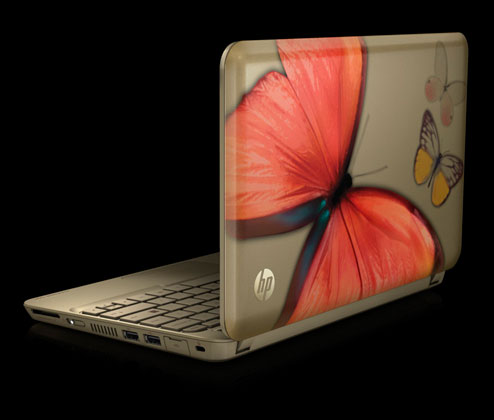 The new HP Mini 210 Vivienne Tam Edition, also known as the "Butterfly Lovers" Digital Clutch, will be available for sale on March 19th starting at $599 and if you can't wait you can call and reserve yours today.
In addition to looking good the new HP Mini 210 include s2GB of Ram, an Instant On OS, HP Quicksync to keep important files synced up between your netbook and main computer as well as HP MediaStream for streaming files on the go. Oh yes, and the ability to use the webcam as a "compact mirror" that's just one click away.
If you want a full matching experience you can pick up a butterfly branded mouse as well as the shockingly priced ($199.95) Monster Butterfly headphones.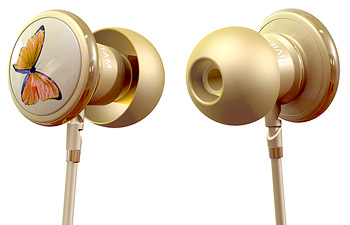 Detailed HP Mini 210 Vivienne Tam Edition
less than 1″ thin and as light as 2.69 lbs.
Windows® 7 Premium2
10.1″ diagonal BrightView Inifinity Widescreen Display
Intel® Atomâ"¢ Processor N450
2GB memory and 1 SO-DIMM slot
93% full size keyboard
Gold 3-cell (3.0Ahr) battery provides up to 5.5 hours of battery life, or black 6-cell (sold separately) is available for up to 11.1 hours of battery life1
Coordinated HP 2.4GHz Wireless Optical Mouse (optional)
Via TechLand
Advertisement