Rene Haas is the General Manager of Notebooks at NVIDIA
In the past, consumers were forced to prioritize notebook performance or battery life, as one feature typically suffers significantly in order to accommodate the other. You could have long battery life from an underpowered notebook, or all the GPU power you desired from a notebook without extra long battery life.  As of today, those days are behind us.
A new technology for notebooks called NVIDIA Optimus is available today on systems from Asus. Just as a Hybrid car chooses between the gas-powered and electric car engine on-the-fly and uses the most appropriate engine, NVIDIA Optimus technology does the same thing for graphics processors.
NVIDIA Optimus is a game changer for the notebook PC industry. It intelligently and seamlessly manages graphics performance while extending battery life to provide the best notebook PC experience."

– Dr. Jon Peddie, President of Jon Peddie Research, a pioneer of the graphics industry and a leading analyst
NVIDIA Optimus optimizes the mobile experience by letting the user get the performance of discrete graphics from a notebook, while still delivering great battery life. Optimus accomplishes this by automatically and seamlessly selecting the right graphics processor for the job between an NVIDIA discrete GPU or Intel integrated graphics.
Older technology called switchable graphics helped address the performance/battery life balance, but there were still several issues. Switchable graphics was pioneered by NVIDIA about 2 years ago and quickly adopted by other graphics companies. With switchable graphics, users have the advantage of having access to discrete and integrated graphics. However, they are required to manually switch between the two display adapters. Switching also often requires shutting down applications that are running and sometimes requires rebooting the system.  Also, with switchable graphics often users do not know or remember what state their notebook is in. The result:  users get frustrated and rarely switch.
Switchable graphics is a great idea in theory, but in practice people rarely switch between integrated and discrete GPUs.  The process is just too cumbersome and confusing.  Some buyers wonder why their performance is so poor when they think the discrete GPU is active, but, unknown to them, it isn't.  Optimus fixes what is broken with switchable graphics."

– Roger Kay, president of Endpoint Technologies Associates, one of the computer industry's best-known market intelligence analysts
Optimus offers notebook users a far better user experience.  Optimus is automatic. Optimus determines the best processor for the workload and routes it accordingly, with the decision being entirely transparent to the user.
Optimus is switchable graphics done right.  No toggles, no reboots, no thinking.   Finally, there is an optimized notebook solution that painlessly gives notebook users both the performance they want and the battery life they need."

– Rob Enderle, President and Principal Analyst of the Enderle Group, one of the most influential technology pundits in the world
With more and more processing being done on the GPU, the significance of Optimus becomes increasingly more important.  GPU Computing is the use of the massively parallel architecture of the graphics processing unit (GPU) as a computational engine that can be programmed with high level languages and APIs. We already have a great roster of applications that run on the NVIDIA CUDA architecture that consumers love. In fact, video is the killer application for the GPU, and a number of new video applications are able to tap into the computing power of the GPU thanks to CUDA.  Adobe has added support for GPU computing to their popular CS4 Suite, Flash 10.1 and their Mercury Playback Engine.
NVIDIA Optimus is designed to work in ways consumers expect hardware and software to work together, it's simple and seamless. We worked closely with NVIDIA to enable Adobe Flash Player 10.1 to take advantage of GPU acceleration whenever possible.  As a result, consumers get the benefit of maximum battery life and the best multimedia experience when browsing the web."

– David Wadhwani, general manager & vice president, Platform Business Unit, Adobe, which is redefining business, entertainment and personal communications by setting new standards for producing and delivering content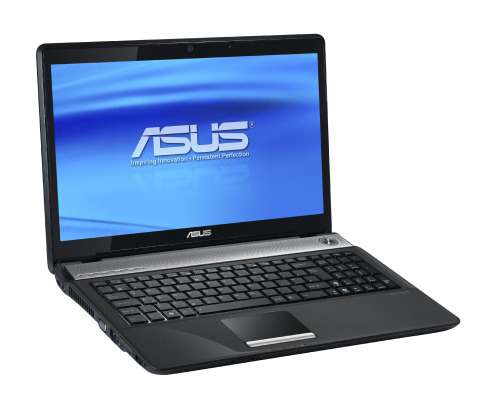 ASUS N61JV with NVIDIA Optimus
Notebooks with NVIDIA Optimus technology will be available shortly, starting with the Asus UL50Vf, N61Jv, N71Jv, N82Jv, and U30Jc notebooks.
We are all hands-on-deck to bring this innovative new technology into the consumer market.  NVIDIA Optimus is a unique approach that solves the problem of users having to choose between systems and graphics performance versus extended battery life. ASUS' powerful multimedia N series and the thin and light UL series notebooks will adopt this new technology, and in doing so provide our users with powerful multimedia enjoyment at home or on-the-go."

– P.C. Wang, Corporate Vice President & General Manager, Notebook Business Unit System Business Group of ASUS
Optimus is new and is a level beyond switchable graphics.  Optimus is able to automatically give users the performance they need while also maximizing battery life, transparently, and with zero effort.  It just works.
The genius of NVIDIA Optimus is in its simplicity. One can surf the web and get great battery life and when one needs the extra horsepower for applications like Adobe Flash 10.1, Optimus automatically switches to the more powerful NVIDIA GPU."

-said Dr. Jon Peddie, President of Jon Peddie Research, a pioneer of the graphics industry and a leading analyst.
For more information on NVIDIA Optimus technology, side by side videos and additional details, visit https://www.nvidia.com/optimus.
Advertisement