Have you ever deleted an important file from a USB or other external drive? Maybe an important picture from a camera memory card? Did you start looking for a Recycle Bin only to find that it doesn't exist?
Window comes with a special Recycle Bin that can help you restore the files you have accidentally deleted by pressing the 'delete' button; but this isn't the case with files you delete from a USB drive. If you delete the files from USB drive there is no 'undo' or 'undelete'; the file doesn't go into recycle bin, instead it is permanently deleted from the USB drive or memory card.
Because of this, you have to be cautious so that you don't delete the files from external drives accidentally. But, mistakes can happen at any time and you might lose important documents or photos.  So how you can avoid this mishap? Is there any utility which works like recycle bin for USB drive? The answer is yes; you can add a Recycle Bin to your USB drive!
iBin is an easy way to add a Recycle Bin to your external drive and help prevent accidental deletion.

Please note that the Recycle Bin has some limitations, like if your file is too big it will get deleted permanently without going into recycle bin. You should not treat recycle bin folder as storage folder for deleted items, it should only be seen as a way to get back accidentally deleted files right when you delete them.
Explaining the concept of Recycle bin is little confusing; the actual folder which contains the Recycle Bin for your USB drive will depend on what version of Windows you are using and the file system in use.
In short if you have FAT file system the folder which contain recycle bin is Recycled , on NTFS (except vista and windows 7) it's Recycler  and on NTFS (Vista and window7) it's $Recyel.bin.
iBin can work like portable recycle bin for your USB drive and it is very easy to install and use. The iBin utility is developed by First Toy Lab and is available for free.
First download the iBin program from First Toy Lab's site and run the installation on the USB drive where you want a portable Recycle Bin folder. iBin will automatically create the container folder and necessary folders to enable the portable recycle bin.
iBin works on all versions of Windows including Windows NT, Windows XP home, Windows XP Professional, Windows Vista and Windows 7. iBin also offers hotkeys to delete or mange files or folder.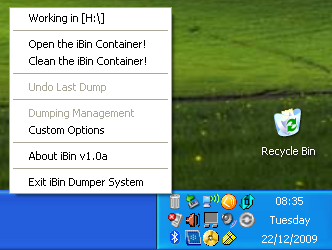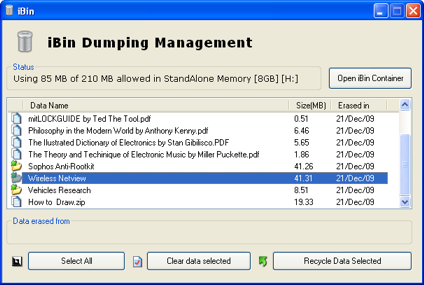 Hot keys:
| | |
| --- | --- |
| Win + Del | Directly dump the selection |
| Win + E | Directly erase the selection |
| Win + backspace | Undo the last dump action |
Some of iBin's popular features are
Detect if a folder is marked as archive and modify the attribute to erase or dump the folder
Do not dump or erase files attributed as hidden or temporary. Do not allow dump or erase the iBin container and they system files while the dump system is working in the background.
Do not dump file of folders with total size bigger than the free space in the iBin container.
Keep the own system files hidden (iBin.ini and dumpedlist.iBin) to avoid accidental lost.
Index the dumped data list when starts and every time the Dumping management is open or close.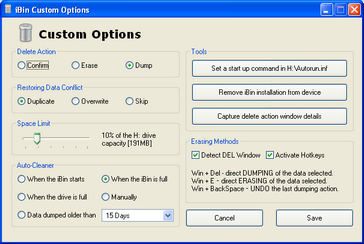 Please note that if you delete the files from Recycle Bin or USB drive there is chance that you can still recover those file with help of free software. Please see my other tutorial How to Recover Accidently deleted files for free to learn how.
Advertisement