Today Lexar has announced two new USB flash drives in a pre-CES press release. These two new back up solutions from Lexar are the Echo SE and Echo ZE. The Echo ZE USBs flash drive is ultra portable  and one of smallest USB flash drive in the world at 20.1 by 15.1 millimeters in size. The Echo ZE  is available in sizes of 8GB, 16GB, 32GB. Echo ZE is plug and stay backup solution that you can leave plugged into your notebook or netbook at all times.
The Echo SE USB flash drive capacity is up to 64 GB and also available in size of 16GB, 32GB, and 64GB. These USB flash drives are compatible with Window XP, Windows Vista, Windows 7 and as well as with Mac OS X. These two USB drives are ideal solution for your laptop/notebook/netbook backup and they can be configured for automatic back up too. Read speed for these drives are up to 28MB/s whereas the write speed is up to 10MB/s. Some notable features of these drives are automatic backup and AES 128-bit encryption option to protect your data in the event of a lost or stolen drive.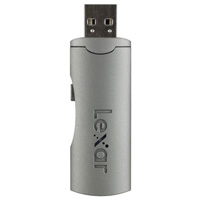 These Lexar Echo ZE , Lexar Echo SE back up drives will be available to ship from February in United States. You can also pre-order them on Amazon.com.
For more information on these USB flash drive please visit lexar page.
Advertisement