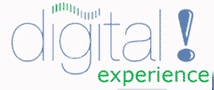 I rounded out my 3rd day at CES with the Digital Experience show.  Digital Experience is an event run by Pepcom.
Exclusively for journalists and analysts, Digital Experience! is a unique opportunity to meet the most influential people in technology — in one place, at one time. More than 750 media joined us for Digital Experience! last January, making it one of the largest press events (and best parties) of the entire year. You should be there too!
It was the big brother to the CES Unveiled event from the other night.
Tonight, the big guns were brought out as the press took every opportunity, and the vendors let them, look at all the new gadgets before the convention officially opens to the public tomorrow.
I saw great new projectors from the folks at DLP.  Over at Energizer, they saved me from my 10% battery left on my G1 with one of their new emergency chargers.  Speck gave me a great new backpack to use.  Novatel told us more about MiFi's future.  Fujitsu talked about a new color ereader/kiosk type device.
There was so much more to try and cover, but that is why this show lasts a few more days and tomorrow is the exhibitors hall walk.
Advertisement