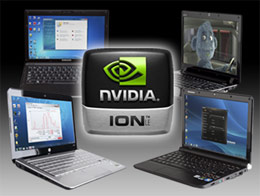 ION netbooks are hot right now, and why not they offer small portable machines with the ability to do more than the typical netbook like watch HD video, edit photos better and even game. We shared Engadget's ION netbook showdown with you already, and we found another great comparison of ION powered netbooks from Laptop Mag which found not one; but two top ION powered netbooks to take the honors.
Laptop Mag's ION netbook shootout looked at similar characteristics to determine the best ION powered netbook including;
Design and Ergonomics
Overall Performance
Overall Graphics Performance
Video Performance
Gaming Performance
Battery Life
Value
Laptop Mag chooses a winner for each of these categories and does a great job of calling out what sets the netbooks apart; both good and bad in the sections. If you like graphs and detailed test results than you'll be in heaven exploring all of the different charts comparing the various performance aspects of each netbook.
To see the winner you can visit the Laptop Mag ION Netbook shootout; but I'll let you know right now that thanks to the dual winners you have your choice of high end and expensive (for a netbook) or affordable with some compromises.
Image via Laptop Mag
Advertisement