Have you heard of icloud ? If not then don't worry you're not alone, even I didn't know about this cool service until last month. Icloud is an internet service that provides a virtual desktop and OS for free, directly on the Internet in a browser. In short, icloud is a web site that turns your web browser into an online computer powered by Xcerion's XIOS technology, including its XML Virtual Machine.
The icloud OS is designed by Xcerion and is known as the  Xcerion Internet Operating System/3 (XIOS/3) which provides a clean, care-free, zero-footprint XML-based OS, running within the browser.
Since the OS and its applications executes in the browser it also works offline. The Internet OS boots itself (takes around 3 seconds) and runs in the primary memory of the computer. As soon as the browser is shut down, the OS disappears from the computer. Using XIOS/3 you never have to think about installing patches, updates or new versions of software again. The OS updates itself. You may also access your applications and documents from any Internet connected computer. Getting started is as simple as registering on the icloud site.
This type of free online computer is good for people who spend lot of time on internet, browsing and chatting and want to avoid the pain of having viruses, spyware, malware. Since the operating system is contained in your browser and maintained by icloud you don't need to worry as much about viruses or keeping your system up to date. You can also use it on any computer which makes it very handy if you need access to a familiar workspace from someone else's computer.
Icloud computer comes with the following features out of the box.
Desktop: Open icloud in your web browser, log in, and your very own desktop will emerge in seconds. The desktop is the starting point of your icloud experience. Here you'll keep your most frequently used files and applications. To the right, you have a sidebar where you can keep small useful applications, e.g. clock, calendar, weather update etc. To the lower left you'll find the start menu for easy access to all features in icloud.
Applications: icloud comes fully loaded with a wide range of applications out of the box like Mail, Instant Messaging, Photo organizer, File explorer, Music & Video player, Write, Calendar, Contacts, Games and more.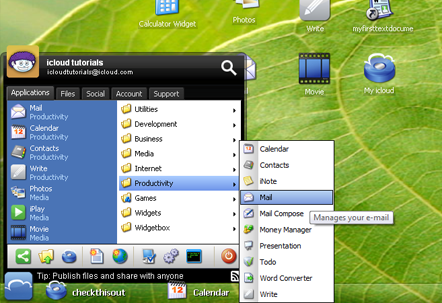 Icloud Drive: Thanks to icloud storing, organizing and opening your files on the Internet has never been easier. Designed to support all the well known (and a few not so well known) features of traditional PC filesystems, icloud will make you feel at home immediately.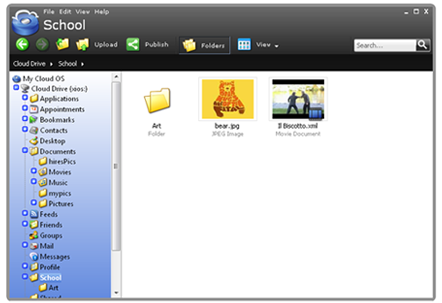 Sharing: Share single files or entire folders, to one friend, or the whole family. You decide. Say goodbye to slow e-mail attachments and time consuming one-file-at-a-time sharing using instant messengers.
Advertisement