The Palm Pre will launch on June 6. There has been a lot of discusion about when the Pre would launch on Sprint's network, but we believe the date is official after spotting Sprint a ad that features a countdown timer to June 6. The advertisements will likely point to Sprint's Now Network Pre landing page.
The ad features a countdown timer that's identical to the counters in Sprint's nationwide "Now Network" advertisements and web site.
The New York Times reported yesterday that the Palm Pre would launch the first week of June.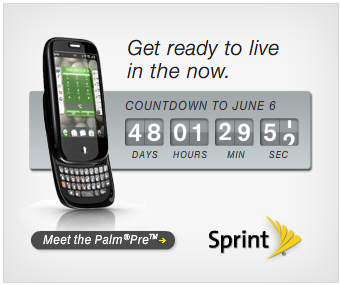 We expect an official announcement from Sprint and Palm soon.
Advertisement