Laptop Mag put the MSI X340 under the microscope and gave it a mixed review. The MSI X340 manages to match the MacBook Air's dimensions but its build quality leaves a lot to be desired.
There are a ton of netbooks and affordable ultraportables hitting the market, but the X340 is of particular interest because it's the first computer to ship with Intel's new consumer ultra-low voltage processors. This platform offers more processing horsepower than Intel's Atom processors which are found in most netbooks.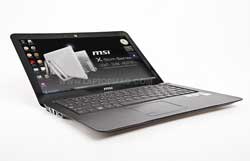 Graphics performance was lacking, which isn't a complete surprise. On a positive note, the X340 had decent battery life.
Read the full review over at Laptop Mag.
Advertisement