It's hard to believe that just over one year ago, netbooks were a brand new class of laptops meant for the developing world. Its creators grossly undermined the public's appetite for cheap and portable computers and one year later, netbooks became the fastest growing segment in the market while every other market suffered painful losses in the brutal economy.
Like all new products, the netbook has had its share of growing pains. Prices were too high and the lack of raw performance to handle suboptimal operating systems and suboptimal video playback software meant that many customers who spent $600 or more were disappointed in their netbooks. While this is due to unrealistic expectations for a product that was originally developed for the emerging world, it didn't change the fact that millions of netbook customers were being inadequately served. Asus, the pioneer of the netbook, recognized this inadequacy and they have ushered in the next generation of netbooks that sets a new bar in price and performance with the Eee PC 1000HE.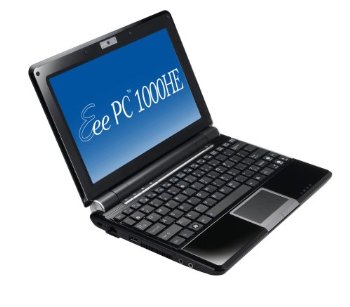 The first generation of netbooks primarily came in one flavor which is the 45nm 1.6 GHz Intel Atom N270 coupled with an ancient Intel 945GSE chipset manufactured 130nm process which is three generations too old. While this configuration could handle 1280×720 video playback which were optimized for minimum CPU utilization such as Microsoft's VC-1 (Windows Media 9 advanced profile) and even H.264 MP4 files, it choked on less optimum video playback software such as Apple QuickTime.
The other problem with the first generation netbooks was that they were either cheap but stripped down to the bare essentials or they often cost $600 or more by the time features like Bluetooth, 801.11n, and large capacity battery were added. Furthermore, the larger capacity batteries on products like the Dell Mini 12 completely ruined the sleek form factor of the product with a bulky thick battery that nearly doubled the thickness of the product. And while the costs have recently dropped below the $500 range for these fully loaded first generation netbooks, it was still too expensive for many people to justify.
Asus' second generation netbook Eee PC 1000HE changes everything by offering all the high-end features for less than $400. It dispenses with the thick protruding 6-cell batteries of old with a flush 6-cell high capacity battery that can stretch beyond 9.5 hours when operating in airplane mode" with all the wireless features turned off and the screen dimmed to 40% brightness. It not only offers integrated Bluetooth, but also 802.11n wireless networking. Instead of a small solid state hard drive, the 1000HE includes a 160 GB 5400 RPM hard drive. Instead of a dinky 0.3 megapixel webcam, a 1.3 megapixel webcam is included. It uses an N280 processor which is 60 MHz faster than the N270 and has a 2 watt TDP instead of 2.5 watts for the N270.
The one disappointment on the 1000HE is that it keeps the ancient 945GSE chipset instead of going to the new GN40 which features full HD video offloading acceleration and is manufactured on the 65nm process and is a derivative of Intel's G45 desktop chipset. Many in the blogosphere assumed that because the N280 supported the GN40 chipset, the Asus 1000HE would be using the new chipset but this has unfortunately been confirmed to be false. But considering all the other features and the price point, it's still sets a new bar in features and price.
When we take the 63 watt-hour battery energy of the 1000HE and divide it by 9.5 hours operating in battery stretch mode, the power consumption of the entire netbook is mere 6.63 watts. I would suspect that if we dropped the LCD brightness from 40% down to 0% brightness, the power consumption could drop to around 6 watts and the battery life could stretch to 10.5 hours which would be the theoretical upper limit of battery life. While this wouldn't be a typical usage scenario, reading or editing documents on a dark airplane does match this scenario.
So what does this mean for netbook market and the consumers that buy them? It's great news for consumers because they can expect to see vast price cuts across the board on all netbook products and they can expect more reasonable performance and features on very affordable netbooks. Amazon is already discounting the 1000HE by $25 to $374.
The wildly popular Acer One 8.9" netbook for example has substantially less storage, smaller screen, small 3-cell battery, no Bluetooth, only 8 GB of solid state storage, and no 802.11n yet it still costs $300 which is only $75 cheaper than the Asus 1000HE. This means that basic entry level netbooks like the Acer One will at least need to drop down to $250 to compete and we may even see $200 netbooks arriving in 2009. Then hopefully, we'll see some GN40 equipped models for not much more money than the Asus 1000HE soon.
Update 2/16/2009:
It seems that the price of Acer Aspire One Netbooks with 8 MB of flash memory have dropped down to the $260 range. That makes a lot more sense given the fact that the Asus Eee PC 1000HE is only selling for $375 list price.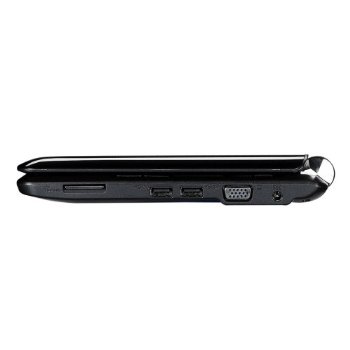 Advertisement