Intel bought Netbook.com last week and will most likely turn it into a portal for Atom-powered netbooks. Intel is working to define the space as there's some debate about which computers should even be called "netbook".
According to the WhoIS databse, Intel initially described the Netbook.com's home page as:
"Wireless internet laptop with Intel® Atomâ"¢ processor features internet, email and instant messaging capabilities. It delivers the high performance needed for streaming videos and music."
If you visit Netbook.com you'll just be redirected to Intel's home page. There's no content on the page itself, but I'm guessing Intel will build out a consumer-friendly Web site to educate consumers about netbooks and of course highlight Atom processors.
When Intel originally started talking about netbooks, they said the tiny computers would be as cheap as $250 and have limited capabilities. We're now seeing manufacturers launch Atom-powered computers for as much as $799.

Update: The guys at Intel sure do work quickly. The Netbook.com domain no longer points to Intel's home page, instead it redirects to what looks like the beginning of the Netbook portal.
Several people have asked me if the domain was available for $9 and nobody bothered to register it, or if they bought it from someone. The answer is they bought it from the previous owner for an undisclosed sum. I was actually hoping to buy it, but the previous owner said they already had a serious offer….and of course Notebooks.com's budget for buying domains is slightly smaller than Intel's.
Best Buy is also trying to define "netbook" with the following definition: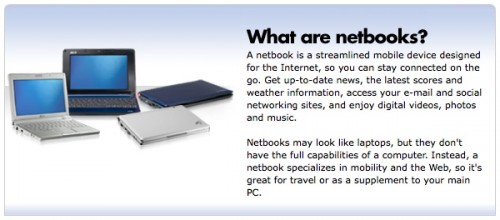 Advertisement