I can't think of a better gift to a notebook user than a backup hard drive that doesn't have one. Backup drives aren't the sexiest gadgets, but they can sure save you a lot of grief if when you hard drive goes bad or you lose your notebook. Our friends at Seagate gave us 20 hard drives to give away and in the spirit of the Holidays we're sharing with readers of nine top technology blogs.
Update: While you're here, Please enter our Black Friday Tales contest for your chance to win a Lenovo IdeaPad S10 netbook.

Winners will get their choice of either a FreeAgent Desk 1TB or FreeAgent Desk for Mac 1TB. If you win you'll also get your choice of a 500GB FreeAgent Go or 500GB FreeAgent Go for Mac portable drive. The FreeAgent Go for Mac has FireWire 800 and USB ports comes in a silver and white design. It matches the look and feel of a MacBook. The FreeAgentGo (non mac) is much slimmer and comes in Red, Forest Green, Sky Blue, Tuxedo Black and Silver.
For a chance to win all you need to do to win is to answer following questions in the comment form at the bottom of this article.
What do you have on your notebook that you'd be devastated if you lost? Have you ever lost important data- what happened?
Only one entry per person and please remember to leave your email address in the form,not in the body of the comment. We'll pick a random winner from all the entries received by 11:59PT on Friday December 5.
You can also enter to win one of the ten hard drive bundles at these Web sites once they post their rules:
1. CrunchGear
I'm a self admitted backup freak. I use a wide variety of drives from various manufacturers, but I like how the new FreeAgents look and Seagate stands behind its products with a five-year warranty.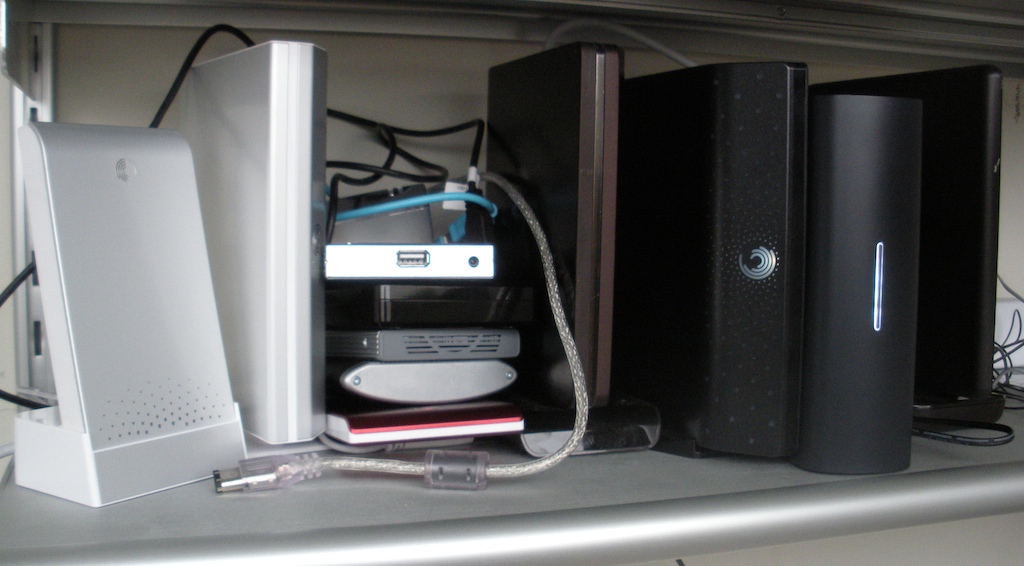 This is a picture of most of my backup hard drives that house everything from wedding photos to the sheet music from my high school jazz band. I keep my most precious photos and videos in at least three locations.
I keep a copy that's easily accessible to all of my notebooks -on one of the hard drives pictured.
On a portable drive that lives in a Sentry Fire Safe in case we're burglarized or the house burns down.
At a relative's house in case my home is nuked or Thomas Crown happens break into my home and crack my safe.

That might be excessive to some people, but I never want to be "that guy" that lost everything and shooting HD videos and RAW format images takes up a TON of hard drive space.

The reason I don't rely more on online services for backup is because in the event of a major data loss it would take literally weeks to download all of my backups and hard drives are so affordable.

Most people don't bother to backup their data, which leads to countless sob stories of lost baby pictures and wedding videos. According to Parks Associates, a hard drive crashes every 15 seconds and one out of five computers lose data. Their analysts say only 10% of home users are actually backing up their data.

I constantly nag my friends and family to buy and use backup drives, but they rarely listen to me. Earlier this year I forced my mom to start backing up her iMac to a FreeAgent Go. Just a few weeks later her hard drive died and we had her up and running on a new iMac just a couple of days later WITH all of her documents and photos.

Don't forget to visit all of our blogging friends' sites for more chances to win.

Seagate's also having a cool promo for the holidays called "Load Me Up." For a limited time, those who register their Seagate FreeAgent storage solution products will get 50 free songs from eMusic , one free movie rental and 50% off a one-year's subscription to SmugMug. The promotion will run from November 28, 2008 through January 31, 2009. For complete details, visit seagate.com/loadmeup on or after November 28
Advertisement