I'm really excited to announce that Notebooks.com and 49 other blogs are giving away over $300,000 worth of HP computers, accessories and software this holiday season. The HP Magic Giveaway will award 50 winners a package worth $6,000. If you win this contest you'll have get more notebooks and gear than you'll know what to do with.
Each winner will receive an HP Mini 1000 netbook, an HP HDX 18 entertainment notebook, an HP Pavilion dv4 notebook and an HP TouchSmart all-in-one desktop with a 25.5-inch touchscreen display. To round out the winners' digital homes, HP's also including a wireless all-in-one printer and an HP MediaSmart Connect, which makes it easy to view all of your digital content on your TV. They'll also receive a copies of Kung Fu Panda, Microsoft Office 2007 and Corel VideoStudio X2.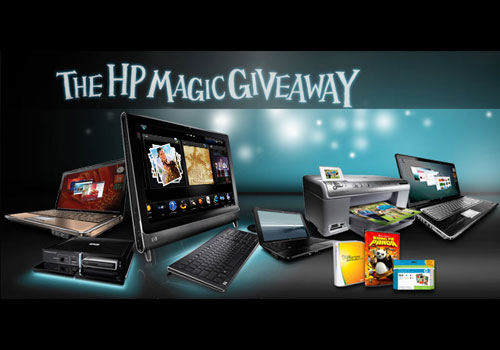 What would you do if you won all of this gear? We hope you'd give some of it away to spread the holiday cheer. I've already played with most of the products included in the HP Magic Giveaway and can assure you most people would be satisfied to unwrap any one of the PCs in this giveaway.
I know this package sounds too good to be true, but I assure you that one of Notebooks.com readers will be the proud owner of all of this gear before Christmas. Each participating blog will have different entry requirements and various rules. We haven't finalized how we're going to give Notebooks.com's HP Magic package away, but we will allow anyone in the world to enter. Earlier this year a reader from Australia won an HP HDX Dragon package from Notebooks.com and HP in a similar giveaway.
The HP Mini 1000 (click here for a video) is one of my favorite netbooks.
If you want your chance to win one of the 50 HP Magic Giveaway prize packages stay tuned and check out the other participating sites. Several friends of Notebooks.com, including liliputing, Gadgetell, jkOnTheRun, GottaBeMobile and Slashgear are participating in the HP Magic Giveaway. We're also excited to see some new friends participating, including several Spanish & Portugese language sites, mommy bloggers and student blogs.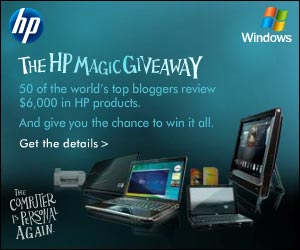 To learn more about the promo check out the official HP Magic Giveaway promo site.
Hardware
• HP TouchSmart IQ816 PC
• HP HDX 18 series Premium Notebook PC
• HP MediaSmart Connect
• HP Pavilion dv4 series Entertainment Notebook PC (with Windows Live)
• HP Mini 1000 (with XP)
Accessories
• HP Photosmart C6380 Wireless AIO (printer)
• HP 564 Photo Value Pak
Software
• Microsoft Windows Vista Ultimate/Home Premium or Microsoft Windows XP pre-installed on all units (Mini 1000 runs XP)
• Microsoft Office Home and Student Edition 2007 (Student-Teacher Edition) 1 DVD with 3 licenses
• Microsoft Windows Live
• Corel VideoStudio X2
Entertainment
• Kung Fu Panda (2 widescreen DVDs; 1 widescreen Blu-ray disc)
Total value: >US$6000
Participating Sites:
Gotta Be Mobile
Barb's Connected World
Geek.com
Gear Live
Neowin
AbsoluteVista
JK On the Run
BostonPocketPC
Notebooks.com
Geekzone
I Started Something
Bleeping Computer
The Gadgeteer
Planet x64
Digital Home Thoughts
Digital Inspiration
Geeks!
MediaBlab
Geek News Central
The Digital Lifestyle
GearDiary
Last 100
Geeks To Go!
Liliputing
OSNN
Slashdot Review
SlashGear
Gadgetell
Windows Connected
Techie Diva
One Day, One Job
Student Bloggers
Study Hacks – Demystifying College Success
HackCollege
Noticias Tech
Eliax
La Bitácora de Erwin Ried
Carlos Alberto
InfoWester
GeeksRoom
CíberPrensa
Unión de Bloggers Hispanos
Living – In Theory
moosh in indy.
Morningside Mom
Thoughts on poetics & tech
Techmamas
Stop, Drop & Blog
Down-to-Earth Mama
merlot mom
Advertisement