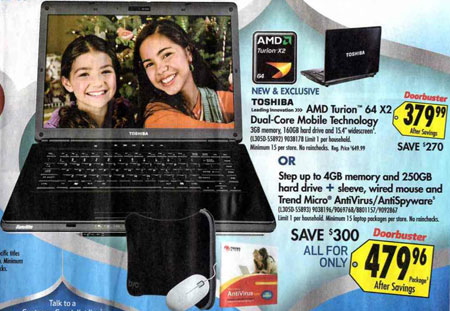 Best Buy will feature the Toshiba Satellite L305D for $379 on Black Friday (day after Thanksgiving). As one of Best Buy's Black Friday doorbusters, the Satellite L305D will be available in extremely limited quantities and you'll probably have to camp out to get one.
This $379 price is a $270 discount compared to Best Buy's normal pricing on this configuration of the Satellite 305 (L305D-S5892).
The Toshiba Satellite L305D is a mainstream 15.4-inch notebook. The Toshiba Satellite L305D on sale on Black Friday includes a 160GB drive, 3GB of RAM, DVD burner and AMD Turion processor. It comes with Windows Vista Home Premium, a Web cam and three USB ports.
There will be a minimum of 15 Toshiba L305D notebooks available at each Best Buy store on Black Friday. The Best Buy stores will open at 5am on Black Friday, but vouchers for all doorbuster items will be passed out on a first-come, first served basis starting at 3am.
For an extra $100 you can get the Satellite L305D with 250GB of RAM and 4GB of memory. The $479 Black Friday bundle includes a wired mouse, Trend Micro AntiVirus/AntiSpyware and a protective sleeve. This is a $300 discount compare to normal pricing. This configuration is listed as the L305D-S5893.
Both models appear to be Black Friday-specifc SKUs. There are similar Toshiba notebooks currently being sold at Best Buy, but with slightly varied specs and SKUs.
Before you get too excited about these and other Black Friday notebooks, please read this recent Notebooks.com article:
Black Friday: 15 Tips for Buying a Black Friday Notebook (or Not Buying One)
For more Black Friday Notebook deals, visit the Notebooks.com Black Friday page.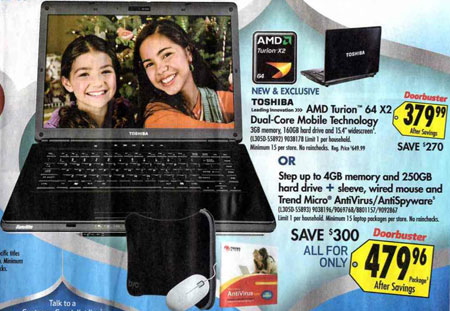 Advertisement