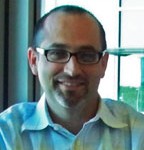 After testing seven netbooks (Asus  Eee PC 4G, Asus Eee PC 900, MSI U100, Dell Inspiron 910, HP 2133, Geode reference design, Asus Eee PC 1000H), over the last five months, I now know what I want to see in future designs.  This may not be the same for all 6,699,999,999 people on earth, but perhaps for a handful or two of like-minded people.
One caveat: I don't expect a single mini-notebook design to be able to meet both my usage models:
* One inside the home focused on entertainment
* One outside the home focused on portability
My ideal at-home mini-notebook
I would like to carry my mini-notebook from room-to-room, plugging it in via HDMI to the next best available flat panel TV in the home. It would also be great to wirelessly stream 1080i video content off the web or my home server, which would benefit from HD graphics decode capability, wireless-N, and the capability to externally project at 1920x1080i resolutions.  A simple, Gyration-style wireless remote should come standard to easily navigate content from 10′.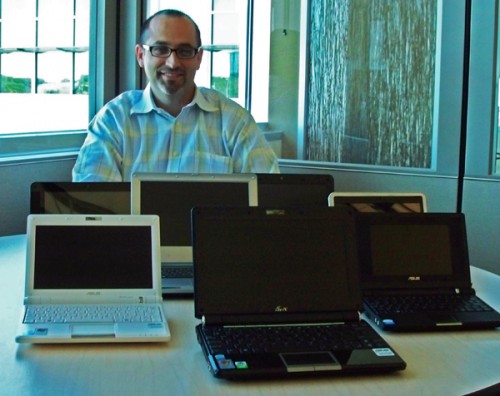 For web surfing, I would like the peace of mind that my system could support the next-generation of Adobe Flash and Microsoft Silverlight technology, so it doesn't become a paperweight in 6 months. This means the processor and native panel screen size must be up to par.   Kids' sites like Webkinz, the "World of Warcraft for kids," today requires at least 1024×768 (tomorrow, maybe 1280×1024) internal panel sizes, and I need at least enough CPU performance to prevent pauses in the action.  Try running Hulu HD, an Apple HD trailer, or iTunes HD TV shows on a netbook and you will know what I am talking about. A 13″ panel would really optimize the viewing experience when not connected to an external display.
Battery life isn't that important at home, but a couple hours would be reasonable, along with a retractable power cord.  Weight isn't as important unless you have difficulty carrying a few pounds room to room.  If that's the case, I would recommend a lifetime membership to Gold's Gym.  Hard drive size isn't as important because I can leverage the hard drive space on my home server, but I still want at least 160GB for applications or DRM-based content loads in case I need to take it on a family trip.
On games, While I don't expect to play Crysis on highest quality settings, I would expect to be able to play a game like Spore and the Sims 2 at 30 fps (frames per second) and decent quality.
My ideal away-from-home mini-notebook
Outside the home is all about portability features and much less about entertainment. Battery life, size and weight become absolutely paramount in defining an "acceptable" bar level of performance.
Like the "at home" netbook, I still want my version to be able to effectively run today's and at least one future generation of web applications at resolutions no less than 1024×768.   I don't think that is asking too much, is it?  Also, I could live with less than a 10″ display.
Eight to nine hours battery life (which we know really means five to six browsing hours) would be optimal, as I probably wouldn't even need to bring a power cord for the day.  If I don't need to bring my power cord with me every time I go outside the house, then having a larger, possibly less expensive and faster charging power brick would be OK.  This only makes sense if it saves money on the BOM cost because those tiny power adapters are cool.
As I said, if I'm going to need to lug this everywhere, weight is a huge factor and at 1.5 to 2 lbs, this seems plenty light enough. Also, the closed height cannot exceed ¾", which would make it thicker than a Mac Air, but thinner than the Asus Eee PC Surf 4G, allowing for easy storage in a glove box or even in my bedroom drawer.
On the WAN communications side, I want to insert my SIM chip into my mini-notebook from my BlackBerry and get the same speedy, instant-on communications features I have had for years.  Sure, I could tether, but if you are redesigning something, why settle for "good enough?"  I don't want to wait for 4G to do something useful or fun and could live with 3G or even, gasp, EDGE.  Why should I have to pay for service twice?  I know Pat, grow up, this is business… :>
Hard drive storage is a bit more important with this design because I wouldn't have speedy access to large amounts of quick storage on my home server.  Sure, I could use one of those "in-the-cloud" services, but until someone invents a more reliable synchronization tool, I will keep my documents and iTunes and Movielink content on my system, snugly fit on a 320GB hard drive.  I have been keeping my "life" on MyYahoo for years, including my contacts, notes, calendar, and email, but documents and content are different.
As I would want to use this in my car, GPS and high bandwidth Bluetooth must be standard.  The GPS is obvious, as I could use it as a mapping tool.  I would like to use the higher bandwidth Bluetooth to gain access to my car speaker system and also pump audible navigational signals as well.  Of course, if this thing serves as the nerve center for my car, I need some type of standard docking mechanism that delivers power with ease of attachment so I can take it in the house when I am home from work.  I know, I am asking a lot.
So that is what I want in my mini-notebook.  A bit different I know, but did you expect anything less?  And if you are wondering why I didn't call it a "netbook", well I want to more than just the "net."  With that, I would like to hear your thoughts on what your dream mini-notebook would look like.
Pat Moorhead is Vice President of Advanced Marketing at AMD.  His postings are his own opinions and may not represent AMD's positions, strategies or opinions. Pat manages his own blog at blogs.AMD.com where he shares his expertise and opinions on mobile technology, gaming, graphics and more.
Advertisement