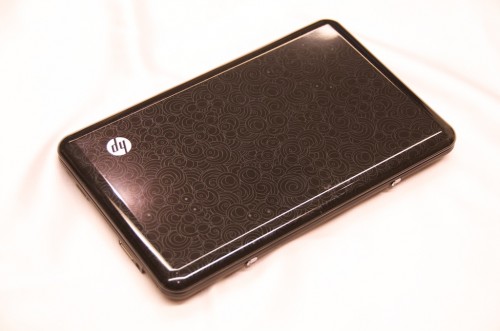 HP is finally getting into the consumer netbook game with the Pavilion Mini 1000, an Atom-powered computer that runs Windows XP or Ubuntu with an HP customized user interface. I got a chance to sit down with HP's Kevin Wentzel last week and shot a bunch of video and photos.
The first version of the HP Mini 1000 features a 10.2-inch glossy display and weighs in at 2.4 pounds. A 2.25-pound version with an 8.9-inch display will be coming soon.
The Mini 1000 is well built and it looks even better in person than it does in our photos. It's case has a great swirl imprint design and is the same high quality as the rest of the Pavilion line. It can easily be carried with one hand and is small enough to fit in a purse.
UPDATE: The HP Mini 1000 is now available for order from HP. Click here for the HP Mini 1000 product page.
The Mini 1000 display has a lower resolution (1024×600) than HP's Mini-Note 2133 (1280×768). The Mini 1000's display looks great in person, but it's highly reflective, which can limit use outdoors our under bright lights.
The first thing I noticed when I opened the Mini 1000 was that it has the same keyboard and touchpad layout as the Mini Note 2133. The keys are 92% the size of a normal keyboard, making it much easier to type on than netbooks with dwarfish keys. On the downside, the Mini 1000 has the awkward left/right click buttons, positioned on the side of the touch padrather than beneath it. Fortunately, you can just tap on the touchpad to click, but it's still something users will have to get used to.
Mini 1000 Operating Systems
The HP Mini 1000 will initially be availabe with Windows XP, but a Linux version is coming soon. HP's done an excellent job in making Linux user friendly and customized to fit the Mini 1000's purpose: web browsing and email. HP calls the Ubuntu interface the "Mobile Internet Experience." It looks slick, is very intuitive and reminiscent of HP's TouchSmart interface.
The MIE Mini 1000 will come with Open Office, Firefox (web browser),Thunderbird (mail) , Skype, and a media player.
Linux applications can be added by users, but they will go through an HP clearinghouse to make sure they're compatible with the Mini 1000.
Check out the below demo to see the MIE Mini 1000 in action:
If you're going to truly use the Mini 1000 as a companion device you should opt for the MIE version for the sake of simplicity.
HP Mini Configurations:
The HP Mini 1000 will be available in several configurations. In addition to the 10.2-inch version, an 8.9-inch Mini 1000 will ship soon. Base memory is 512MB, with 1GB being optional on all versions, while 2GB will only available on the MIE Mini 1000. Base models will ship with an 8GB solid state drive. More expensive models will get a 16GB SSD or 60GB hard drive.
Obviously, 8GB and 16GB SSDs don't leave a whole lot of room for your photos, music and videos. To help alleviate this problem, HP's included two ways to add quasi-internal memory to the Mini 1000. Like many other netbooks, it includes an SD card slot. The nice thing about the Mini's slot is that it's hidden and SD cards fit completely inside of it.
The other solution is the Mini Mobile Drive, which comes in 2GB, 4GB and 8GB flavors. The Mini Mobile drive is simply a USB flash card that fits into a specially made carrier which sits into the right side of the netbook.
All HP Mini 1000s will come with  .3MP web cam, 802.11b/g Wifi, an integrated microphone, stereo speakers and a three-cell battery. A six-cell battery and port replicator are planned accessories.
HP Mini Pricing
UPDATE: The HP Mini 1000 is now available for order from HP. Click here for the HP Mini 1000 product page and current pricing of available configurations.
The cheapest HP mini 1000 is an  MIE will be available in January with a $379 starting price. The cheapest Windows XP version is $399. Both of these base models come with the 8GB SSD, 512MB of system memory and the 8.9-inch display.
Upgrading to the 10.2-inch display will cost $50 extra.
The Windows XP HP Mini 1000 at $499 will come with the 60GB hard drive, 1GB of system memory, bluetooth. You can get the XP 10.2-inch version starting today.
For the fashion conscious, HP has a red special edition HP Mini 1000  designed by Vivienne Tam, a clothing designer that sells high-priced clothing. It will run Windows XP, have a 10.2-inch screen and all the other higher-end options. To be honest, I had no clue who Tam was until I asked my wife, who promptly listed off a few Vivienne Tam items she owns. This edition of the Mini 1000 will cost about $700 when it's released.
HP Mini 1000 Specifications
Operating System
‐ Genuine Microsoft Windows XP Home Basic Service Pack 3 for ULCPC Program
‐ Mobile Internet Experience built on Linux
Processor Intel Atom N270 Processor (1.6 GHz)
Chipset Intel 945GSE + ICH7M, 533MHz FSB
DDR2 SDRAM, 533MHz, one DIMM slot
XP Home model: 512MB or 1 GB
HP MIE model: 512MB, 1GB, or 2GB
Internal Storage 60 GB 4200rpm P‐ATA hard drive, 8/16 GB solid state drive (SSD)
External Storage 2/4/8 GB HP Mini Mobile Drive (optional; Available with SSD model only)
Options:
8.9‐inch WSVGA BrightView Display (1024×600, 16:10 ratio)
10.2‐inch WSVGA Display with Infinity BrightView Display(1024 x 600, 16:10 ratio)
Graphics Intel GMA950 (UMA) with optional HD video decode accelerator mini‐card1
Audio HD Audio, stereo speakers, integrated mic
Webcam 0.3MP (VGA 640 x 480, up to 30 fps)
Wireless communications 802.11b/g wireless LAN, optional Bluetooth v2.1; Wireless signal on/off switch
Communications 10/100 Ethernet
Media slot Secure Digital (SD)/MMC
Ports and connectors 2x USB 2.0, RJ‐45/Ethernet, headphone/microphone combo jack, expansion port, AC Power
Input device 92% full‐sized keyboard, touchpad with scroll function, left and right clicks
Software XP model: Microsoft Works, MS Internet Explorer, Windows Media Player; HP MIE
model: HP Custom Desktop, Open Office, Browser, E‐mail, Skype, Media Player
Security Mini‐lanyard slot
Battery Standard 3‐cell Li‐polymer 26WHr; Optional 6‐cell Li‐polymer 52WHr
Dimensions (w x d x h)3 10.3 x 6.56 x 0.99 in / 261.6 x 166.6 x 25.13 mm
Weight: Starting at 2.25 lbs/1.01 kg (with 8.9″) or 2.4lbs/1.08 kg (10.2″)
Expansion Solutions Optional; VGA cable, External USB DVD+/‐RW ODD 2, 4 and 8GB Mini Mobile Drive
Warranty
Limited 1‐year and 90‐day warranty options available, depending on country; Extended warranty
available
Advertisement