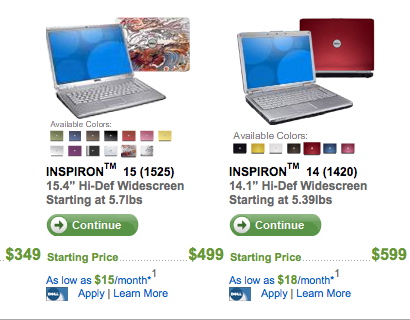 I just received an email from a confused notebook shopper and Notebooks.com reader. He's in the market for a sub-$800 mainstream notebook and wrote:
"I was on Dell.com and noticed the Dell Inspiron 15 (1525). When I click on it I don't see that computer, I get taken to a Dell Inspiron 1525 page. Is there a new model and is the Inspiron 15 any better than the Inspiron 1525?"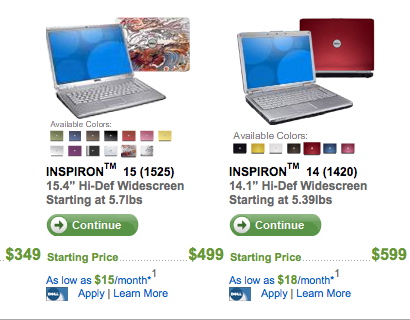 The simple answer is No. In The an effort to simplify naming conventions, Dell is trimming down their Inspiron notebook names to reflect the size of the display. The new Inspiron names make a lot more sense but during the transition the Inspiron 15/Inspiron 1525 name is being used interchangably.
Until now Dell Insprinon model numbers have been used four digits long, with the first two signifying the size of the screen, and the last two differntiating new models from each other. For example, last year you could buy a Dll Insprion 1520. The current Intel-powered Dell Inspiron 15-inch is the "1525: and the AMD powered model (available only from retailers) is the 1526.
All these model numbers can get confusing since they're tough for the average notebook shopper to decipher and they change quite often.
From a marketing perspective I think it's also better for Dell to have a consistent name for their products. Simpler and shorter laptop names is definitely an industry trend.
This year HP did something similar when it introduced the HP Pavilion dv4 (14-inch display), dv5(15-inch display) and dv7 (17-inch display). Previous models had unwieldy names like the "HP Pavilion dv6000."
Advertisement