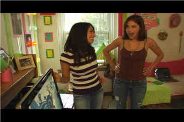 HP's running a video series called "Dorm Storm" that features Sena Khoda (better known as "Obama Girl") making over dorm rooms with HP gear, including HP notebooks, home servers and more.
The videos, which are fast paced, show Khoda 'surprising' college students and making over their rooms with a ridiculous amount of HP gear. Check out the trailer for the series below.
Obama Girl's "I Got a Crush…On Obama" has been viewed over 9 million times on YouTube.

Advertisement