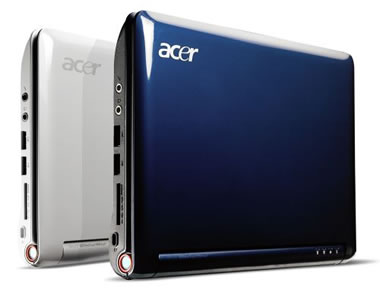 The Acer Aspire One is now available from U.S. retailers including Amazon.com, Buy.com, NewEgg.com and many others. If you're thinking of buying an ASUS Eee PC 901, MSI Wind or an HP 2133 you should definitely take a look at the Acer Aspire One.
Acer boasts that the Aspire One can run for up to seven hours on an optional six-cell battery, which is very impressive for such an affordable notebook.
The Acer Apire One features Intel's Atom, which is designed specifically for small mobile devices. It has an 8.9-inch display with a resolution of 1024×600 pixels and an integrated Web cam.
Available in three models, the Acer One is available with either Windows XP Home or Linux operating systems.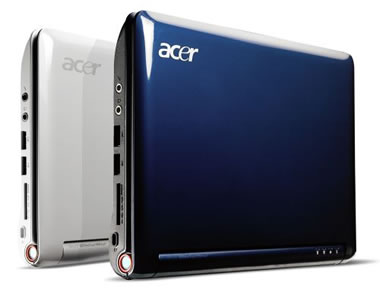 If you wan the Linux operating system you have two choices. The base model costs just $379 and comes with 512MB of RAM, 8GB of flash memory and a 3-cell battery. For $499 you get a 120GB hard drive, 1GB of RAM and a 6-cell batery.and no hard drive.
Those that want to stick with Windows XP only have one option for now, which includes a 120GB hard drive, 1GB of RAM and a 3-cell battery.
One very cool feature of the Acer Aspire One is that there are dual memory card readers, one of which can be used to expand the paltry 8GB of flash memory on the base model.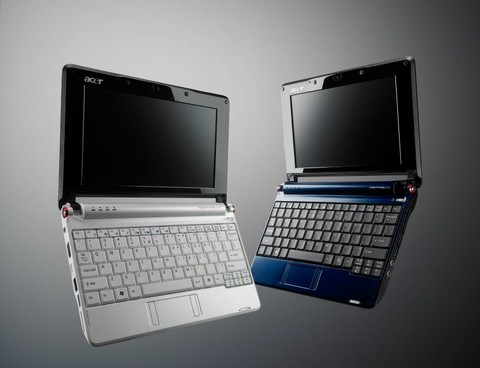 Acer Aspire one AOA110-1722: $379
* Intel Atom Processor N270 (1.60GHz, 533MHz FSB, 512KB L2 Cache)
* 512MB Memory
* 8GB SSD NAND Flash Module
* 8.9-inch WSVGA Acer CrystalBrite 1024 x 600
* Intel Graphics Media Accelerator 950
* Acer Crystal Eye Web Camera
* 10/100 Mbps LAN
* 802.11b/g Wi-Fi Certified WLAN
* 3-Cell battery
* Multi-in-1 Media Card Reader
* SD Storage Expansion Card Reader
* Linpus Linux Lite
* 3 USB 2.0 Ports
Acer Aspire one AOA150-1570: $399
* Intel Atom Processor N270 (1.60GHz, 533MHz FSB, 512KB L2 Cache)
* 1GB Memory (512MB On-board)
* 120GB Internal Hard Drive(3)
* 8.9-inch WSVGA Acer CrystalBrite 1024 x 600
* Intel Graphics Media Accelerator 950
* Acer Crystal Eye Web Camera
* 10/100 Mbps LAN
* 802.11b/g Wi-Fi Certified WLAN
* 3-Cell Battery
* Multi-in-1 Media Card Reader
* SD Card Reader
* Windows XP Home
* 3 USB 2.0 Ports
Acer Aspire one AOA110-1566: $449
* Intel Atom Processor N270 (1.60GHz, 533MHz FSB, 512KB L2 Cache)
* 1GB Memory
* 8GB SSD NAND Flash Module(3)
* 8.9-inch WSVGA Acer CrystalBrite 1024 x 600
* Intel Graphics Media Accelerator 950
* Acer Crystal Eye Web Camera
* 10/100 Mbps LAN
* 802.11b/g Wi-Fi Certified WLAN
* 6-Cell Battery
* Multi-in-1 Media Card Reader
* SD Card Reader
* Linpus Linux Lite
* 3 USB 2.0 Ports
Advertisement