Hitachi announced the world's highest capacity 2.5-inch mobile hard drive. The Travelstar 5K500 boasts 500GB of capacity but it won't fit in mainstream notebooks.Rather than increasing data density, Hitachi is stacking two 250GB platters into the drive. The drive is 12.5mm thick, rather than the standard 9mm for notebooks.
The highest capacity single-platter notebook drive is currently 320GB. Hitatchi says the Travelstar 5K500 is geared for "slim desktops, full-featured notebooks, gaming consoles and other advanced applications for consumers on-the-go."
The company should've added "fat laptops" to this list. It's nice to see a 500GB 2.5-inch drive, but what's the point if it can't even fit in most notebooks?
Hitachi will also offer an enhanced-availability (EA) version, called the Travelstar E5K500 — also available in both 400GB and 500GB capacities — which is designed for applications requiring 24×7 operation in lower transaction environments, such as blade servers, network routers, point-of-sale terminals and video surveillance systems.The Travelstar 5K500 will be available worldwide in February. The Travelstar E5K500 will be available by the end of the second quarter, 2008.
Technical Specifications:
Travelstar 5K00400/500 GB(a)12.5 mm in height
5400 RPM260 billion bits per square inch maximum areal density glass disk platter(s)6 TMR recording head(s)
1000G/1ms non-operating shock400 G/2ms operating shock
5.5 ms average latency
12 ms average read time
0.95 W active idle
0.7 W low-power idle
1.8 W idle power (EA version only)
Serial ATA 3.0Gb/s, 1.5Gb/s encrypted
148 grams in weight
2.2 Bels typical idle acoustics
2.4 Bels typical operational acoustics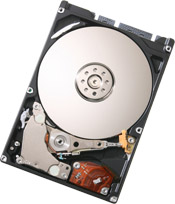 Advertisement