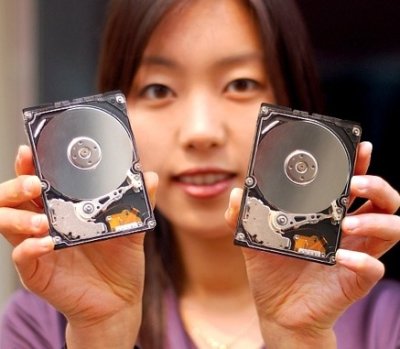 Samsung announced a new line of drives for notebooks today. The SpinPoint M5 line launches in May with capacities ranging from 60GB to 160GB which will start shipping in May. Samsung is developing a dual-disk model that will have a 250GB capacity.The SpinPoint M5 series utilizes perpendicular magnetic recording (PMR) technology, and the disk drive design has been optimized to allow ultra-precision adjustment of the head parking ramp position for high-density recording.
"The 2.5″ hard drive market is registering double-digit annual growth, and we expect at least a twenty-percent growth increase in 2007," said Hyung Keun Park, executive vice president and general manager of Samsung Electronics' Storage System Division. "With hard disk drives rapidly moving beyond PCs to include consumer electronics, we will provide customers with a new lineup of products with the highest available capacity and the best performance to enable new applications."
The M5 Series has been developed specifically for portable consumer electronics, where the key to success lies in controlling noise, vibration and power consumption. Samsung's SpinPoint M5 hard drives are fifteen-percent quieter and use five-percent less energy than other models with the same storage capacity.
Advertisement