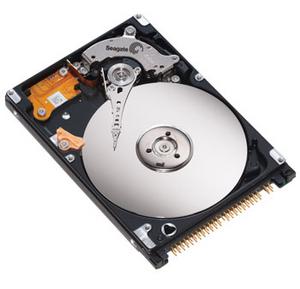 Seagate announced worldwide availability of the Momentus 7200.2, the worldâ€â"¢s first 160GB 7200-RPM notebook PC hard drive to combine capacity-boosting perpendicular recording technology with free-fall protection. Seagateâ€â"¢s newest Momentus hard drive is also shipping to a major original equipment manufacturer.â€ÂThe growing number of computer users turning to laptops as their primary PCs want every inch of capacity, performance and durability they enjoy in their desktop systems,â€ÂÃƒâ€šÃ' said Michael Wingert, Seagate executive vice president and general manager, Personal Compute Business. âہThe new Momentus 7200.2 hard drive epitomizes Seagateâ€â"¢s focus on delivering cutting-edge storage technologies that make it easier to move, use and protect digital information in the home, in the office and on-the-go.â€ÂÃƒâ€šÃ'
Momentus 7200.2 delivers up to 160GB of capacity using perpendicular recording technology and combines a fast Serial ATA 3.0 Gbit/second interface with 7200-RPM spin speed to enable the highest- performance laptops ever. The hard drive is also offered with an optional free-fall sensor to help prevent drive damage and data loss upon impact if a notebook is dropped. The sensor works by detecting any changes in acceleration equal to the force of gravity, then parking the head off the disc to prevent contact with the platter in a free fall of as little as 8 inches.
Momentus 7200.2, Seagateâ€â"¢s second-generation 7200-RPM notebook drive, is designed for a wide range of systems including mainstream notebook PCs, workstations, RAID enclosures, and small form factor desktop PCs. It is also available in 80GB, 100GB and 120GB flavors.
Advertisement